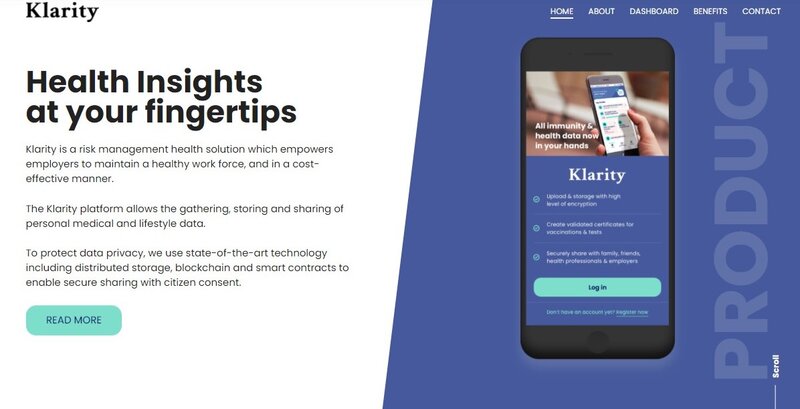 COVID-19 staff health management tool developed for airlines and airports
Dutch developers of Klarity Delfin Health and DocHQ say surveillance of employees is critical
A new health data management tool that uses Artificial Intelligence has been developed for airports and airlines.
Partners Delfin Health and DocHQ have developed Klarity that allows users to monitor employee health and safety and predict the impact on and requirements of the workforce.
It uses COVID-19 risk assessment based in the latest clinical guidance and daily symptom checking and a proprietary testing process.
The developers say it also gives employees the power to take control of their own health information.
The system is being aimed at airports and airlines who need to continually address their employees' anxieties associated with returning to a safe work environment.
Will Cooper, founder and chief executive of Delfin Health, said: "Staff with a high or medium risk score will show symptoms upon contracting the virus and will be required to self-isolate and get tested on the onset of these symptoms.
"Staff with a low score in their assessment will still need to be monitored as they are likely to be asymptomatic upon contracting the virus – otherwise known as super spreaders because they are most likely to transmit the virus.
"Continuous surveillance and symptom checking of all staff is therefore critical. Upon reaching the defined threshold, each crew member would be required to undergo a nurse administered test to determine a positive or negative result.
"In conjunction with the flight risk score calculations, crew on short-haul flights would be tested every five to seven flights and crew on long haul flights would be tested every three to four flights."
Testing is overseen by healthcare professionals who interpret results based on World Health Organisation (WHO) protocols and third party validation including Polymerase Chain Reaction (PCR), Enzyme-Linked Immunosorbent Assay (ELISA) and rapid antibody tests.
Clinicians can carry out testing, verify and upload results, as well as organise further follow-up consultations as required.
Cooper added: "Airport staff are core to the operations and management of this industry. They interact with hundreds of passengers on a daily basis, so their safety is critical to minimise delays and potential airport-wide lockdowns.
"It's not enough for employers to simply rely on staff using the test and trace government solution which tests only symptomatic people. All preventative measures need to adopted to minimise their exposure to the virus.
"As a fully managed Covid-19 solution, Klarity can help airports and airlines monitor the health and safety of their staff in the most efficient way – and we are already in discussion with a number of airports across Europe.
"Our solution allows the reduction of testing yet, through group and randomised testing, identifies the virus quickly.
"This will minimise the risk of an outbreak in the currently active workforce, while mitigating any potential employer liability risks long-term and providing peace of mind for staff and crew."