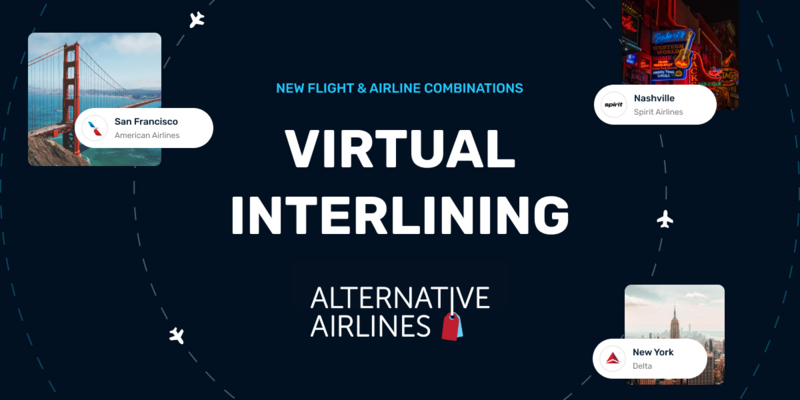 Alternative Airlines launches virtual interlining with initial focus on the US
Global flight search and booking says platform will offer customers more choice
Alternative Airlines has launched the first phase of the roll out of its Virtual Interlining technology.
The platform allows passengers to book flights with different carriers even if those airlines do not have a formal alliance.
The global flight search and booking site will is focussing on North America initially. Over 90% of Alternative Airlines' total flight bookings are currently made within the US.
The technology is being developed by Alternative Airlines' in-house tech team of developers and designers, in partnership with Amadeus.
Tobias Lenz, product lead and manager of Alternative Airlines' long-term virtual interlining project said:
"To get the best fares, travellers will often spend a lot of time building their own combination of flights.
"This can be a difficult and time-consuming process of identifying all the possible airline options and then comparing fares.
"But through Virtual Interlining, we can provide this service instantaneously, by automatically generating the best airline options based on a customer's departure and arrival airports or cities.
"By combining carriers we're able to create new routes where no single carrier is currently offering flights.
"As well as saving our customers their time, this will also maximise the possibility of finding cheaper prices."
Sam Argyle, managing director at Alternative Airlines, added: "It's important to us to continue to bring more dynamic and diverse airline content to our customers.
"The launch of our Virtual Interlining project is perfectly timed as we continue to focus on expanding our reach within the US market.
"Our aim is for alternativeairlines.com to become the single-platform solution for anyone wanting to easily curate and manage their flight itineraries. And through Virtual Interlining, we're able to bring even more flight choice to our customers."
Alternative Airlines recently included 'buy now, pay later' payment instalment options to its' over 40 ways to pay on the booking platform.