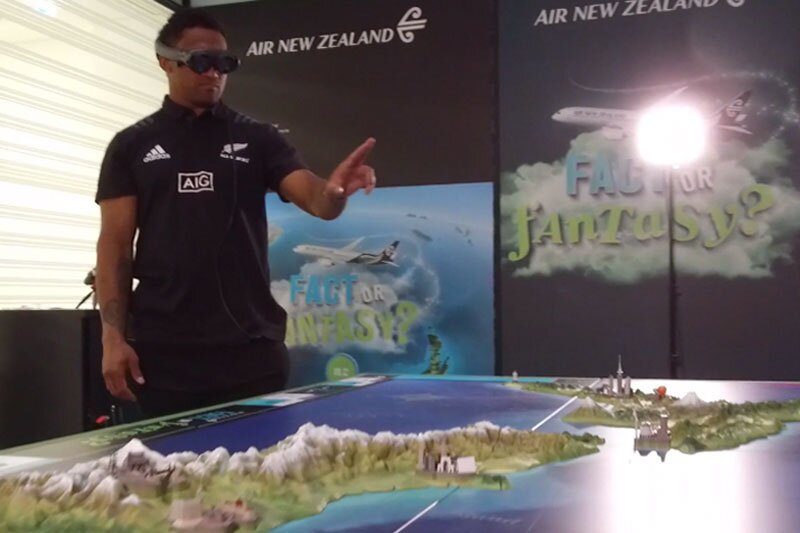 Air New Zealand tech lets content 'step out of the screen'
A lightweight, wearable computer that allows digital content to "step out of the screen" is being used by Air New Zealand in London to promote its home nation.
The New Zealand-themed gaming experience allows up to four players to embark on a digital tourism journey through where they will be quizzed on their knowledge of the country.
Players view a physical 3D map of New Zealand as they are transported to witness a giant kauri tree grow, meet a Hobbit, get splashed by a breaching whale, and have a bird's eye view of a helicopter bungy jump.
The airline has established partnerships with technology firms Magic Leap and Framestore, to create the Air New Zealand 'fact or fantasy' game.
Magic Leap's technology layers digital objects onto the real world so that light enters the eye as it would with a real object.
The airline's global brand and content marketing general manager Jodi Williams said the partnership with Magic Leap was an important step towards understanding the part spatial computing could play in the future customer experience both on the ground or in the air.
"By getting in early and being both a developer and creator we have been able to test and learn, creating an incredible platform from which to explore the potential of this technology as part of our future aircraft cabin experience programme including concepts such as being able to reframe customers' perceptions of the physical cabin environment," she said.
"This first concept stemmed from the idea of getting together to play a board game when travelling with family and friends.
"From this creative inspiration, we developed a multi-player game where up to four players are immersed in a mixed reality world that brings New Zealand to life to both inspire and educate travellers."
The airline has also recently experimented with an AI human ambassador, as well as various virtual reality applications.