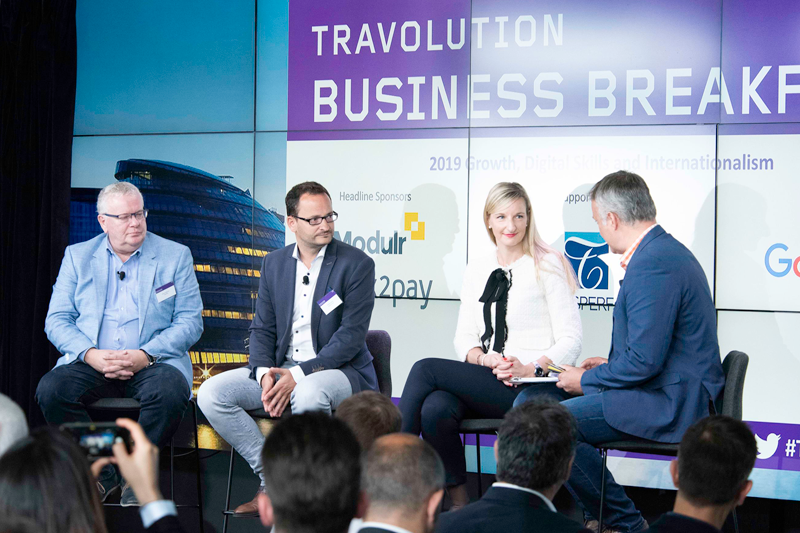 Travolution Business Breakfast: Internationalisation and growth in the travel sector
Lee Hayhurst reports on a Travolution Business Breakfast hosted by Google on how to find growth overseas
Lee Hayhurst reports on a Travolution Business Breakfast hosted by Google on how to find growth overseas
Setting out to internationalise your travel company creates a virtuous circle as customers start to recognise your brand as catering for a broad range of clients, the Travolution Business Breakfast was told.
Estelle Giraudeau, Club Med managing director of the UK and northern Europe, said the pioneering French all-inclusive resorts operator sources just 40% of guests from France.
The firm has seen significant growth in the Chinese market, a doubling of the UK market in the last five years and some surprising success in other source markets.
She cited Brazil where Club Med has seen particular success selling European ski trip aimed at jetsetting Brazilians who travel to France to visit the Alps as well as Paris and other sights.
"With competition in the market today, you can't really count on one or two source markets because this is too risky so you have to have a broad range of markets," she said.
"It becomes a virtuous circle. You start off and you are very French and international clients are put off because you are very French.
"Then you manage to put your first foot on the ladder of internationalisation and you have more English speaking staff, more international staff and more international clientele and you are then identified as an international company."
Giraudeau said Club Med has a very clear strategy in terms of where it targets to grow in overseas markets.
"We have this strategy of opening in places which are maybe not super expected, for example ski in Japan or China. We have in our DNA to be pioneers in our destinations.
"So, we choose locations based on not having many competitors, having lots of space, good transport access and at least three different source markets."
Giraudeau said it has maintained the core French-ness of the product because it appeals to an international audience but has adapted it for local tastes.
And she said while its websites need a core of content that is global in nature it has to be made relevant to local source markets.
Start-up weekend.com's UK expansion proved brand could be internationalised
Dusseldorf-based start-up weekend.com launched in the UK just two months after it was established to prove its concept could be internationalised.
The online short-breaks specialist aims to take the pain out of finding weekend getaways by making it easier for users to match flights with hotels in one place.
Tobias Boese, weekend.com founder and managing director, said the firm felt there was an opportunity in the UK market despite it being very competitive and price sensitive.
He said the firm quickly found it had to source more of the right product for the UK market and employ English language speakers to translate and create relevant content.
"The reasons we went into another country so early was we wanted to see if the basis of what we built would work in other countries.
"With a small team what you have to try to do is create something scalable and we found 80% of what we had built was working in the UK."
Having launched in the UK in July 2017, weekend.com entered the Netherlands and then the US where Boese said it had to make the biggest adaptions due to different customer needs.
"The first growth goal for us is to increase reach and with that learn from users' behaviour. We are looking at other markets but we just have to prioritise.
"We are going after the low hanging fruit first which is the English speaking markets and Europe, but there are very interesting opportunities in Asia."
Airlines hold key for travel brands that want to expand into long-haul
Airlines hold the key to long-haul expansion for OTAs and tour operators and payments is at the heart of the challenges they face.
Dave Robinson, Pax2pay chief commercial officer, said despite moves to open up the aviation sector with Iata's New Distribution Capability [NDC] data standard many traditional flag carriers are being "dragged from the dark ages".
He said due to limited low cost options, firms have no choice but to work with traditional carriers when they internationalise, many of which still require partners to use GDSs and Iata's 30-year-old Billing Settlement Programme [BSP].
However, Robinson was confident someone will crack the problem of getting airlines to accept B2B payments via virtual credit cards negating the need to be in Iata or work though a GDS.
He said he can see "really big growth" if "we can persuade some of the airlines to start taking payments through NDC connectivity" or if more "low cost carriers buy aircraft that enable them to fly further and expand their markets".
Travel firms are failing to plan for payments challenges when they internationalise
Not enough travel companies take account of their ability and the cost of paying suppliers when they plan their expansion strategies, according to Pax2Pay's Dave Robinson.
Pax2Pay was launched this year by Paxport, which bought Bristol-based travel tech firm Multicom in 2016, and is a partnership with Modulr, a virtual payments card provider.
Its payments platform takes advantage of new EU Open Banking legislation designed to open the finance sector to third party API [Application Programme Interface] technologies.
However, Robinson said the dominant Visa and Mastercard schemes still control access to moist markets globally meaning firms may have to recognise local banks in those countries.
And he said many suppliers require payments in their own currency and in some markets, like the US, hotel suppliers do not accept virtual cards because they require proof it exists.
"Payments is a key part of any strategy for internationalisation," Robinson said. "It's quite complicated and it needs planning and some companies don't do that very well."
More: There's more to international growth than Brics and Figs
Gallery: Business Breakfast: Growth, digital skills and internationalisation