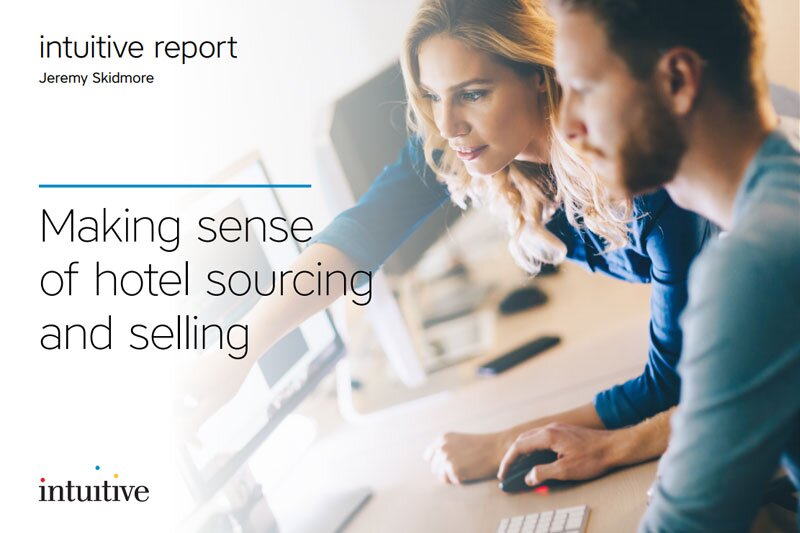 Travel Forward 2018: Intuitive report untangles the complex world of hotel supply
Report produced for WTM sets out to demystify 'spaghetti-like' connections linking customers with product Continue reading →
Bed banks, direct connect, channel managers, switches, DMCs and extranets – the world of hotel inventory connectivity and product supply is increasingly complex and confusing.
A new report produced for next week's World Travel Market by travel technology firm Intuitive sets out to demystify the 'spaghetti-like' connections that link the end customer with the product in travel.
The report – Making Sense of Hotel Sourcing and Selling – has been written by former Travel Weekly editor Jeremy Skidmore and draws on the experience of a number of seasoned pros from the industry.
These include a number of veterans from the dawn of dynamic packaging in the UK market over two decades ago when the emergence of the lowcost airline model blew the traditional hotel, operator, agent relationship apart.
Intuitive's report charts the development of this new online marketplace with contributions from Andrew Botterill, executive chairman of Travcorp Holdings, Bill Allen, chief supply officer at On The Beach, and Alan Josephs, former vice president of hotel distribution at Travelzoo and now a US-based consultant.
On The Beach's Allen explains how the agent now sees 70 of its business coming via direct contracting with hotel partners although the report says this has only be possible due to the huge scale the OTA has achieved and smaller travel firms will need to use a range of suppliers.
Intuitive said the report "breaks down the intricacies of the sector and explores the available options for travel companies that need high-performing technology to access the best hotel rates and availability".
It takes a close look at bed banks, channel managers, switches, the emerging role of Destination Management Companies (DMCs), extranets and the possibility of a resurgent GDS sector in hotel distribution.
The report explains what each does and looks at the challenges and opportunities for travel companies of working with these suppliers in an ever-complex market.
Intuitive commercial director, Andy Keeley, said: "Hotel sourcing and connectivity is essential for most travel businesses, but this is increasingly daunting as it is a technical, complex and competitive landscape.
"This in-depth report examines how companies get to grips with this area of the industry; we hope that it is both interesting and a practical guide.  It also highlights how our iVector system helps provide an easy solution for travel companies that need to access the best hotel rates and availability."
The iVector system offers links to 92 bed banks, 29 channel managers, four switches, nine hotel chains and offers a supplier extranet as well as direct contracting.
Visit intuitivesystems.com/wtm to download the full report for free.
Intuitive will be exhibiting at the Travel Forward exhibition at World Travel Market in London on stand TT628 from November 5-7.