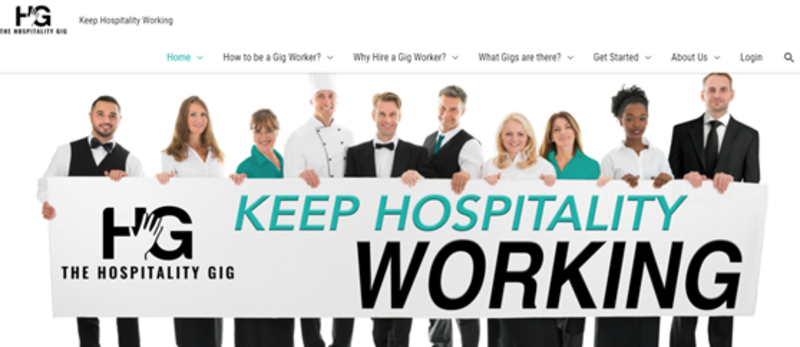 The Hospitality Gig launches to supply flexible staff for firms recovering from COVID-19
Start-up's three female founders set out to help a sector ravaged by the pandemic
A new platform to connect businesses with hospitality talent has been launched.
The Hospitality Gig says it aims to disrupt the sector's labour market by helping employers find flexible 'gig workers' as they recover from COVID-19.
It added it represents the "future of work and aims to retain talent and tackle unemployment in the hospitality sector".
The Hospitality Gig has undergone testing ahead of this month's launch. Businesses and gig workers can sign up now to get early access to the platform.
The Hospitality Gig will provide access to talent for hospitality businesses and employment for those searching for flexible work, job shares, fractional roles, and more.
It will connect businesses and people in sales, revenue management, marketing, HR, finance, and procurement, among others.
The platform is the brainchild of Fiona Robson, Kate Walsh, and Rachel Moosa, who have a combined 63 years of experience working in travel and hospitality, including senior leadership roles for global brands including Hilton, Accor, Fairmont, and Disney.
The trio of female co-founders have been devastated by the effect COVID-19 had on the hospitality industry and the huge number of job losses it has seen.
The Hospitality Gig managing director, Rachel Moosa, said: "For Kate, Fiona, and me, along with many in the hospitality industry, our careers are more than just a job, it is our passion.
"So, when we saw the ravaging effect of the pandemic on the hospitality industry, we came together in the spirit of camaraderie the industry is famous for to keep hospitality working.
"We knew there was a huge pool of talented hospitality professionals out there and that businesses would be looking for highly skilled workers, in a totally different way than they were before the pandemic.
"As a senior vice president in human resources, I wanted to use my knowledge and experience to help facilitate that connection. So, we put our heads, and hearts, together, and The Hospitality Gig was born."
The start-up believes positive vaccine news means there is a chance of the sector returning to some sort of normality from Easter and it will need access to skilled talent at reasonable rates to power recovery.
Moosa added: "If there's one thing we've all learned this year, it's that businesses are more than capable of accommodating remote and flexible working.
"And more than that, flexible working, job sharing, and fractional roles can be incredibly beneficial to businesses in the long term.
"The pandemic has changed the shape of work and recruitment forever, and we're leading the hospitality response to this. In The Hospitality Gig, we have created a value-driven employment model, which is different from an agency.
"We are disrupting the traditional approach to talent acquisition enabling businesses to find fully-trained talent as and when they need them while helping our colleagues get back to work. It's a win-win."