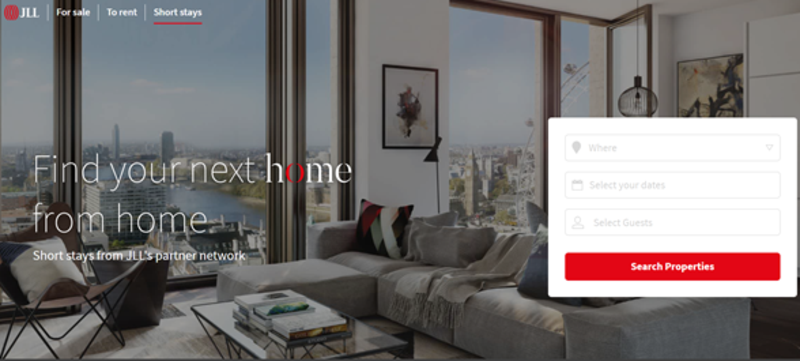 Real estate services provider JLL launches short-stay booking platform
Fully-serviced flexible stays offered to both leisure and corporate travellers
Real estate services provider JLL has launched booking platform for the fast-growing short stay sector.
JLL Short Stays allows business and leisure travellers to book fully-serviced UK urban accommodation for flexible stays ranging from three nights 12 months plus.
The platform was developed through JLL's existing partnership with UK proptech company, Lavanda. Over 1,000 units went live across the UK at the launch with plans to expand this to over 35,000 units globally by 2022.
Sam Winnard, director at JLL, said: "JLL Short Stays offers guests a better value alternative to a hotel or serviced apartment, whilst at the same time providing exclusive access to premium urban accommodation professionally managed by the world's most trusted blue-chip operators – including Greystar, Blackstone, and CA Ventures.
"This is all wrapped up in a best-in-class online booking experience to deliver a seamless digital guest experience end-to-end. We have big ambitions for our Short Stays platform, and I'm hugely excited to develop it alongside our network of corporate travel bookers into a primary channel of corporate rental demand."
Frederick Lerche-Lerchenborg, chief executive officer of Lavanda, added: "We're thrilled to build upon our existing partnership with JLL and work with the team to deliver new value for JLL's residential partners.
"As demand for greater flexibility and digital-first customer experiences continues to sweep the industry and shape its future, so does Lavanda's technology become increasingly critical to the effective management of institutional real estate. We're very excited to build upon this launch and explore what the future has in store."