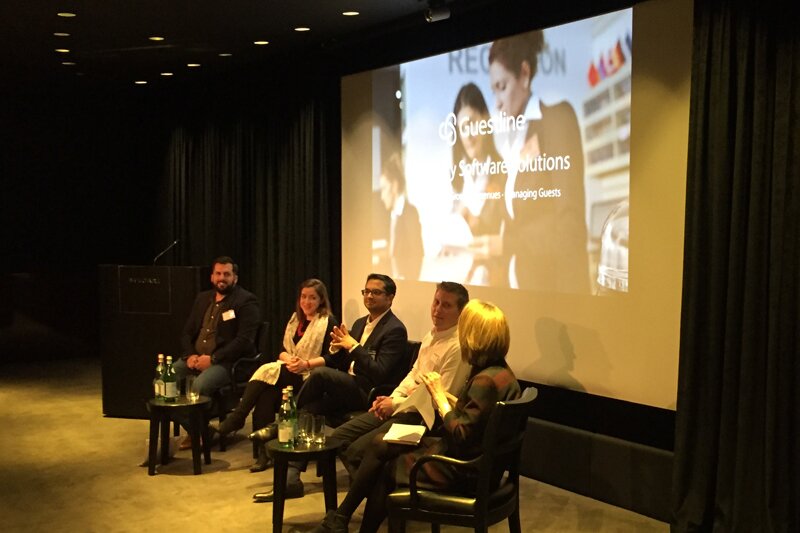 Hotels seeking direct bookings should give customers 'no excuse' to leave websites
Hotels should give customers "no excuse" to leave their payment pages by removing any offers or barriers to confirmation if they want to drive direct bookings.
A panel of online hospitality marketing experts hosted by tech provider Guestline debated how hotels can increase direct bookings at the Bulgari Hotel in London on Thursday.
Satyan Joshi, business leader at Google's Hotel Ads encouraged hotel managers to book their own properties as if they were a customer and said upselling should come after booking is confirmed to prevent it putting customers off.
"When [customers] are in a position to give you their money, don't give them an excuse to leave [your hotel's website]," he said. "Don't show them offers on your payment page."
As an example, he added: "If I'm asked if I have a voucher code, I'm going to go and look for one. That takes me away from the hotel website and I could end up booking elsewhere."
Simon Bullingham, chief executive of hotel digital marketing agency Journey, agreed that pre-stay emails should come after booking confirmation, and insisted they should be relevant and add value.
"Take away all the nonsense," he said. "Make sure the experience is as close as possible as it will be in the hotel.
"As hoteliers, your product and your staff is your biggest selling point over OTAs, which are all about conversion. But remember, you don't have your staff on your website."
Bullingham said his company's research showed that direct bookings cost hotels between 7-8% of the customer's price in marketing but said selling indirectly, such as through online travel agents, is more likely to cost between 15-20%.
"If you don't own your customers they will keep booking with OTAs," he said. "Yes, OTAs do a good job of offering choice. What hotels need to do better is capturing those potential guests who come on to their website."
He added that between 60-70% of those who view a hotel's website leave to book elsewhere or via an OTA.
To combat that, he said hotels need to target people who make "emotional purchases" on impulse by offering a simple booking process and "great imagery". "The longer they leave it, the more calculated their booking will become – and calculated bookings are driven by price," he added.
Bullingham said there are a number of third party technologies, such as "exit tools" and price comparisons that can be deployed by hotels to combat people leaving by guaranteeing them the best price direct.
But Joshi said: "The hard bit is getting noticed and becoming part of the consideration. People in Europe and the US are not necessarily brand loyal. Inspiration comes in all different ways, but it tends to be via mobile. If you are not there you are not going to be searched for later on in the journey when people make a decision on their booking."
Sofia Tappa, general manager at Revinate, said good reviews help hotels stand out.
"Guests are four times more likely to book a certain hotel with a higher ranking if the price is equal," she said. "And they are 75% more likely to pay a higher rate for hotels with a higher ranking.
"Independent hotels can make the difference when battling the bigger brands on reviews."
She also suggested hoteliers segment the booking journey and use AI to personalise parts of the process in which they know they can add value.
Andrew Metcalfe, Guestline's chief technology officer agreed, adding: "Make sure you add value in your follow-up emails."
He said hotels should emulate airlines' post-booking marketing by giving useful information such as 'how to get here' maps as well as adding a "by the way we sell…" to the message.
He encouraged hotels to move people away from OTAs' own pre-stay emails by making theirs better. "If you do that you can convert those OTA bookings to direct," said Metcalfe.
The panel all warned against over-personalisation to the point of it becoming "creepy" and agreed new data protection laws (GDPR) will help reduce that sort of marketing.
Tappa also added caution over focussing on too many direct bookings, insisting a balance between direct and indirect was important.
"The ultimate goal is not getting more direct or indirect [bookings]," she said. "The ultimate goal is to get the most possible out of each booking."