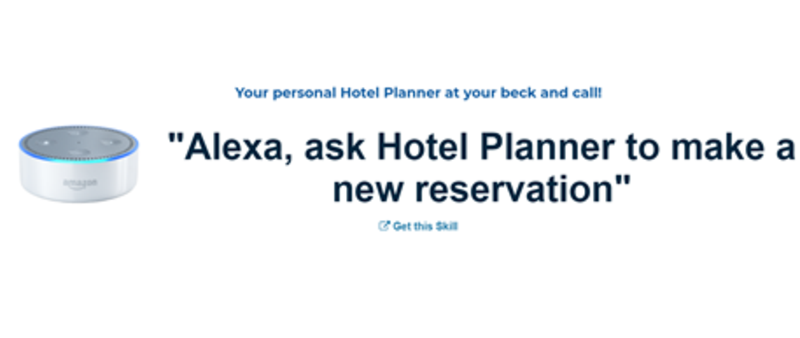 HotelPlanner Alexa skill launches connecting users with 'gig-economy agents'
OTA believes virtual assistant enabled bookings on Amazon app are a 'game-changer'
Booking platform HotelPlanner has launched a new 'skill' on Amazon's voice-controlled personal assistant app Alexa.
The Alexa-enabled feature provides users priority access to remote working HotelPlanner agents who can offer discounted hotel stays globally.
Using an Alexa device or the mobile app, a customer must first enable the skill. They can then activate the feature by saying 'Alexa, open HotelPlanner' or 'Alexa, ask HotelPlanner to make a new reservation'.
Once the user tells Alexa their requirements, the service connects them to a live agent, or 'Hotel Planner', as a priority call, bypassing the call queue to complete the booking.
HotelPlanner said the service is "equivalent to having a personal hotel concierge at one's beck and call anytime help is needed with hotel bookings".
The firm added its proprietary artificial intelligence and VOIP capabilities will also try to route customers to an agent who either lives in, or knows about, the desired destination.
In May 2020, at the height of the pandemic, HotelPlanner launched its global reservations platform staffed by gig-economy agents in response to an influx of customer calls.
John Prince, co-founder and chief information officer, said: "We believe that adding Alexa-enabled hotel bookings is an industry game changer.
"As the Internet of Things and smart homes, smart cars and smart offices become more ubiquitous, HotelPlanner is ready to provide a tech-forward solution that embraces voice activation and anticipates how consumers will interact with technology to make travel plans.
"And this capability is sustainable, scalable, and complementary with the ongoing expansion of our gig-based Hotel Planner reservation platform."