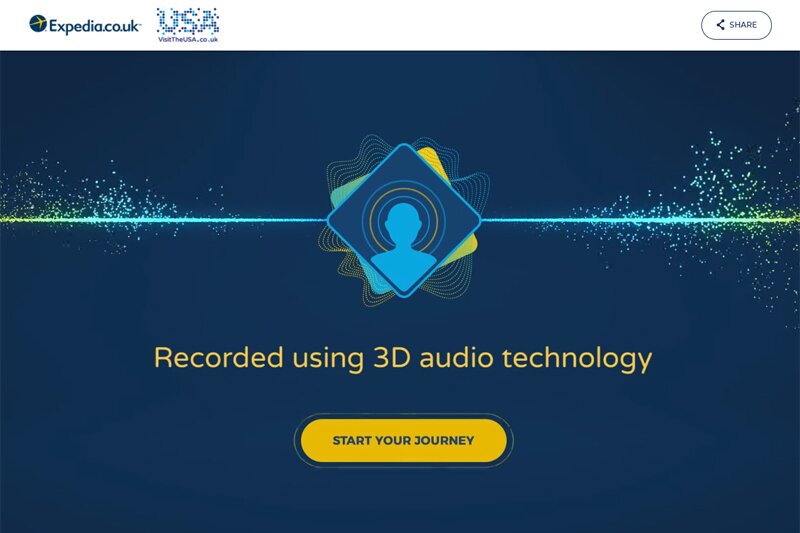 Expedia and Brand USA partner for first 3D audio campaign
Expedia's advertising arm and Brand USA are to partner on a 3D audio marketing campaign to promote international travel to the country.
Expedia Media Solutions is to pilot "Sound Travels", a first 3D audio campaign for the division of the leading global OTA.
It will features a bespoke, interactive content hub that promises to "bring the vibrancy and diversity of the US to life through immersive 3D audio experiences".
The partnership is part of a multi-year campaign to promote international travel to the US.
Sound Travels will pilot in four key US source markets: Canada, Australia, Mexico and the United Kingdom.
Hari Nair, global senior vice president of Expedia Media Solutions, said: "We believe in the transformative power of sound to inspire travel and discovery, and the unique 3D audio experience pushes the boundaries of imagination and transports listeners to destinations across the U.S. with just the use of headphones.
"Sound Travels will empower Brand USA to engage with international travelers in a fresh and exciting format, and is an example of the innovative, technology-led solutions we develop for marketing partners."
The focus on sound in the campaign aligns with Brand USA's new IMAX Film, "America's Musical Journey," which explores America's history through the lens of music and sound.
Tom Garzilli, chief marketing officer of Brand USA, said: "We're thrilled to collaborate with Expedia Media Solutions in developing innovative ways to promote the distinctive sights and sounds found only in the United States.
"As the Sound Travels program continues to evolve, we're confident that it will inspire prospective visitors to travel to one of our vibrant destinations."
Sound Travels' interactive content hub, will promoted experiences in Austin, Chicago, Las Vegas, Miami and more.
Visitors are prompted to connect their headphones and select their preferred auditory experience.
While the selected 3D audio clip plays, an on-screen animation dissolves into a first-person point of view photo, revealing the selected experience and allowing users to also visualise themselves in the experience they're hearing.
After listening to their selected sounds, visitors are presented with custom travel recommendations based on their personal sound and activity preferences.
Visitors to the hub can also explore additional destination content, including editorial-style articles, photos, suggested itineraries and special deals and promotions, and filter their preferences by 3D audio playlists or locations. The campaign hub also features an integrated booking widget.