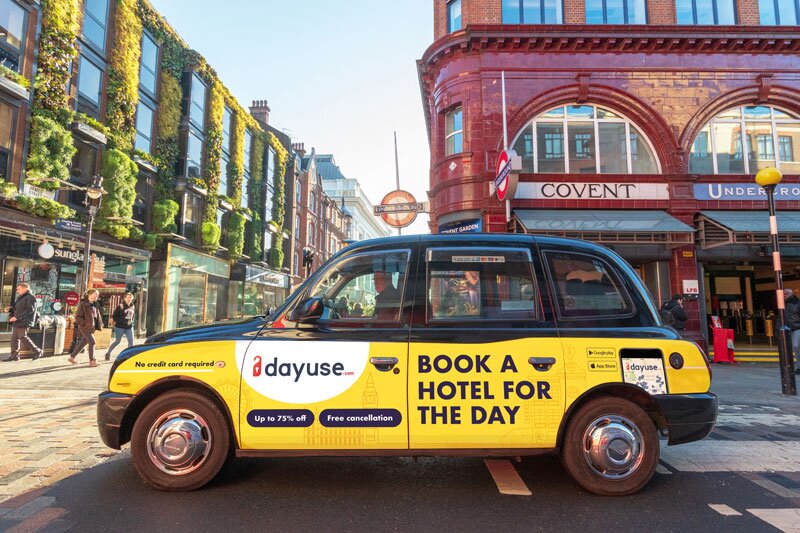 Dayuse.com kicks off second outdoor brand campaign on London's black cabs
Booking platform Dayuse.com emblazons brand on 400 London black cabs
Daytime hotel room booking platform Dayuse.com has emblazoned its brand on 400 London black cabs as part of its latest brand awareness campaign.
Running for one month, the campaign will also see the undersides of tip seats in the taxis adorned with the brand logo.
Dayuse.com is offering hoteliers incremental income by selling rooms that are empty during the day by targeting travellers with long lay-overs, remote business travellers and locals looking for a 'daycation'.
Devised with taxi advertising company Ubiquitous, this second brand campaign of 2019 will help promote the brand to new audiences throughout the capital and educate consumers about the possibility to book a hotel room during the day at a discounted rate, Dayuse.com said.
Dayuse.com is now available in 25 countries with more than 5,000 hotel partners. The service says it has facilitated over one million bookings globally since the platform's launch in 2010.
The firm has also partnered with Eurostar and St Pancras International Station on a video currently being broadcast on 36 digital screens in the boarding room of Eurostar, St Pancras.
To celebrate the 25 years anniversary of Eurostar, Metropolitan, the Eurostar magazine which has a readership of one million travellers, will feature a Dayuse.com ad in its first 30 pages.