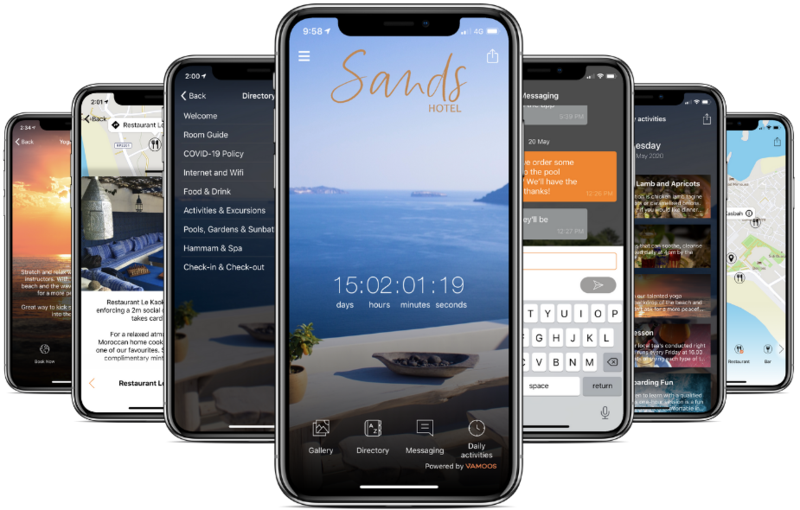 Coronavirus: Vamoos revamps tour operator app to develop new version for hoteliers
Hotels can promote local attractions, facilities and communicate with guests
Tour operator travel app Vamoos has developed a new version for hotels as they prepare to reopen this month following the COVID-19 lockdown.
The app can be loaded up with information about the hotel and the surrounding area and includes countdown clock on the home screen to raise anticipation among guests.
Vamoos says hoteliers have given it positive feedback about a directory which can include a room guide plus information about restaurants and bars, spa facilities and other amenities
And the app also offers a 'do not disturb' option, enabling guests to communicate with staff without needing to speak to them or use an old-fashioned door hanger.
Alisdair Luxmoore, director of Vamoos, said: "We find ourselves in an unprecedented situation with every hotel in the UK closed, and preparing for reopening with social distancing in July.
"Vamoos started as an app for tour operators and users said it was great for holiday info, but why could they not have hotel info as well?
"Vamoos for Hotels means that by providing information ahead of the stay, guests get a chance to get excited ahead of their visit and can plan their trip.
"And hotel owners can use the messaging and notification system to help manage social distancing and be able to keep guests updated with the latest info post Covid-19.
"Because of the current situation, we have decided to let hotels have a free subscription for the rest of 2020, as they get back on their feet."
The app also enables hoteliers to promote local places of interest, recommendations of places to eat, weather, maps, and anything else to enhance the visitor experience.
Jonathan Butterworth, group operations director of the Lavender Hotels Group, which is trialling the app, said:
"Vamoos is a great platform which will enable us to provide our customers with a quickly downloadable app in which to totally navigate around the facilities, places of interest and booking processes, at the tap of a screen.
"The speed by which we went from enquiry to production was phenomenally quick and credit must go to the team at Vamoos.  Its content system allows changes and tweaks to be made easily as our hotels evolve through the months and years.
"The added advantage is post COVID-19 the app will reduce a significant number of touch points as we strive to safeguard the customer.
"That, alongside the 'Do Not Disturb' function, messaging service to the hotel team and ability to provide links pre stay to check in remotely, will significantly help in our ability to deliver to the guest exactly what they require.
"Vamoos will also reduce the amount of  notices, tent cards and posters that are required throughout the hotel, whilst saving us money at the same time."
James Innes Williams, head of sales and marketing at St Michael's Resort in Falmouth, added:
"Vamoos means that our resort's facilities are at your fingertips. With directory information, daily activities and things to do embedded and links to check-in, food ordering and spa booking services, it provides a single portal of information.
"A great solution in the drive to make the post-COVID-19 guest journey contactless yet world-class."