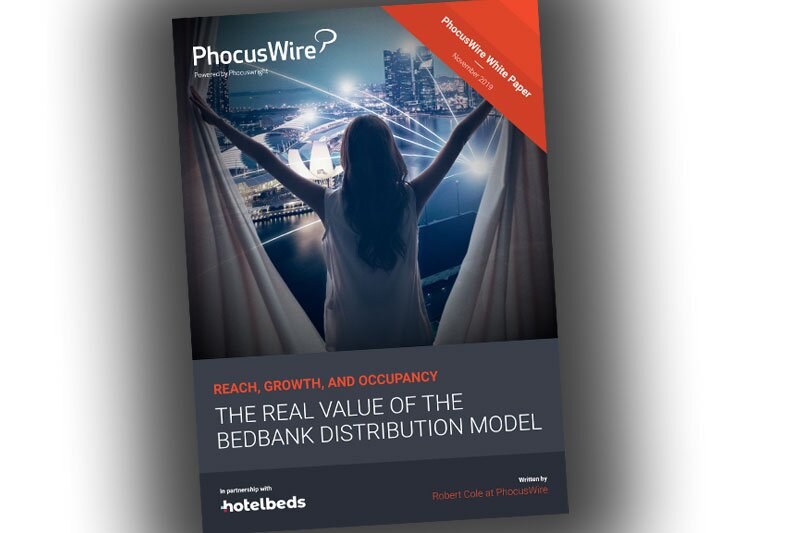 Combatting 'rogue OTAs'  highlighted as one advantage of bed banks in Hotelbeds report
Reach beyond core markets, access to higher-value bookings and increased occupancy among advantages, report claims
Combating "rogue OTAs" that distribute wholesale rates to the public have been identified as one of the main advantages for travel firms to use bed banks.
Hotelbeds commissioned research from the travel sector with hoteliers, airlines, OTAs and other retailers from US-based travel sector research firm Phocuswright.
The 20-page report entitled The Real Value Of The Bedbank Distribution Model looks at technology and how bed banks operate differently from OTAs.
It cites reach beyond core markets, growth and access to higher-value bookings, and increased occupancy as among the advantages of using bed banks like Hotelbeds.
The report also looks at how bed banks encourage rate integrity and discourage "bad behaviour" from OTAs that allow discounted rates negotiated for non-public channels to appear in the market.
Jorge Cortes, Hotelbeds product director Europe and Africa, said some OTAs try to the match the low opaque rates negotiated by wholesalers by promoting them unbundled on online public websites.
"This is a huge problem," he said. "They [OTAs] want to increase their direct reach to consumers. It's a huge problem for wholesalers.
"We want to be protecting our partners and hoteliers and keep those best rates for tour operators and the travel package market."
Cortes said while rate parity did not exist when the bed bank model was invented in the 1990s, Hotelbeds has adapted and is imposing penalties on clients that breach BAR (Best Available Rate) distribution agreements.
"We are making sure that our clients are distributing this correctly and we are restricting distribution of rates. We believe this is fundamental for bed banks today," he said.
"The bed banks that succeed in controlling rates distribution will be the ones that survive."
Speaking in a briefing ahead of the launch of the report today, Bruno Trathaug, head of supply at fast-growing OTA Love Holidays, the UK's fourth largest outbound travel retailer, said:
"We use bed banks and key partners like bed banks to bundle flight availability and accommodation availability to offer to the end consumers as part of a package.
"Our core business is selling package holidays which means the rates we negotiate through Hotelbeds are based on not displaying those rates as stand alone. That's important in this market."
Asked why Love Holidays uses Hotelbeds, Trathaug said that it allows the OTA to focus its resources on customer acquisition rather than on contracting.
"We keep our purchasing structure very lean," said Trathaug, who added Hotelbeds is also able to give the OTA a global presence.
"They can get access to hotels very directly. The really great thing is we can also tailor make the contracting for our needs. There's specific contracting and close cooperation."
Carlos Munoz, managing director of Hotelbeds, said the report was an attempt to bring the work of B2B bed banks, which usually takes place behind the scenes, out into the open.
"We feel that the results address many of the misconceptions held about bed banks – for example showing that bed banks provide access to much more than just OTAs and instead offer access to higher-value, opaque booking channels such as tour operators and retail travel agents.
"We are really excited that this will produce some much-needed debate and look forward to sharing its findings with our partners and prospects across the sector in person."
Palma-based Hotelbeds claims today to be the world's largest B2B accommodation wholesaler with 180,000 properties provided across the globe.
It was previously a part of the Tui Group, Europe's largest travel company, but was sold to private equity owners in 2016 for €1.2 billion.
The firm has since led consolidation in the sector acquiring rivals Tourico and GTA which it has now integrated on to a single technology platform.
Hotelbeds has also moved to increase its presence in the ancillary products market with its Beyond the Bed division, under which new acquisition Holiday Taxis sits, that now offers 18,000 activities and 24,000 transfer routes.
Enrique Martin del Campo, vice president of business development at Mexican hotel operator RCD Hotels, said Hotelbeds allows it to access international markets and partners like airlines it cannot reach directly.
"We are living in a very diversified world, a very connected world and we are trying to reach guest from other international countries where we do not have contracting," he said.
"And airlines prefer not to be contracting directly with each individual hotel. It's easier to go through a bed bank to feed that inventory.
"For a supplier like us it's good to be part of the inventory supplied to different channels that we would not be reaching ourselves."
Martin del Campo said bookings through bed banks tend to be made by non-domestic clients from long-haul source markets, and are for longer stays which deliver higher average daily rates and revenue per reservation.
Trathaug added that another important advantage to bed banks for Love Holidays is having access to live data and rates 24/7 through its API feed.
This allows the OTA to check the rates and conditions it is including in its packages in real time before confirming a booking.
And he also said Love Holidays relies on Hotelbeds support team. "Whenever there is an issue around technology help is quickly provided if something goes wrong.
"Technology plus operational support allows partners to outsource and not have to worry about managing a lot of those things in-house."