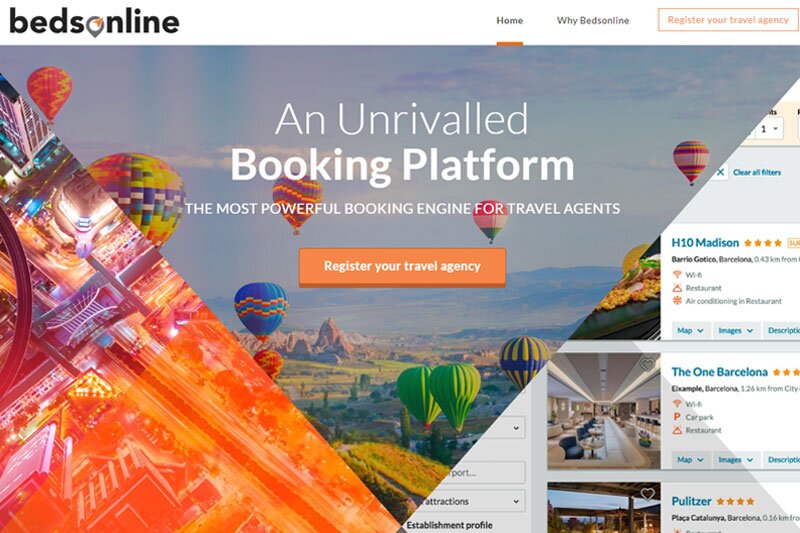 Bedsonline boosts agent commission during peaks
Bedsonline is offering an extra 3% commission on all bookings at the start of the 2019 peaks as it looks to ease trade partners' transition to the brand.
Having integrated GTA brands including TravelCube, which joined the group as part of the GTA acquisition in April 2017, the bed bank is offering the additional earning opportunity until January 17.
The new year incentive is available to all trade partners who work on a commission basis with Bedsonline. Customers that take net rates are in individual discussions over their deals.
Alistair Rodger, retail travel agents director at Bedsonline, said this was a "massive" campaign timed to take advantage of the key turn-of-year booking period.
"The message is this is a no-strings-attached campaign offering an incremental 3% commission on all destinations worldwide and travel dates during the year's biggest booking period by a country mile.
"This is a massive investment. We genuinely believe by doing this we are investing in the long-term because when people go on to Bedsonline they are going to love it.
"We hope this gives everyone a warm and fuzzy feeling as they come over to Bedsonline."
Rodger said Bedsonline was chosen as Hotelbeds' dedicated trade bedbank following the integration of GTA and Tourico because of its market leading technology and breadth of product.
As well as 170,000 hotels, 18,000 activities and 24,000 transfer routes, he said it also provides agents with a range of product filters.
This allows properties to be searched for on the basis of points of interest in the vicinity. Bedsonline has 34 such filters compared to TravelCube's eight.
Rodger conceded some UK agents will feel a loyalty to TravelCube, but added: "It's getting people to put their toe in the water, because there is a loyalty element.
"TravelCube is a great brand and has a lot of loyal fans but as soon as we get people to move to Bedsonline they say 'wow, it's such an upgrade'."
Rodger said Bedsonline will evaluate how the 3% additional commission incentive is going and did not rule out an extension.
"I would never say never, it's not unheard of for any promotion to be extended," he said. "We will look in January and see how it's going."
As well as GTA's UK brand TravelCube, the firm's other two B2B supplier brands are also being migrated onto Bedsonline.
Currently TravelCube is branded Bedsonline 'brought to you by TravelCube', but the plan is to close all of the old GTA booking platforms by the end of January.
Prior to the integration, Bedsonline had 20,000 agent clients and GTA had 26,000 but there was minimal duplication, said Rodger.
Hotelbeds has around 3,000 UK customers, a third of which were Bedsonline users, a third TravelCube and a third were users of both.
More: Hotelbeds unveils new Bedsonline brand after GTA and Tourico integration