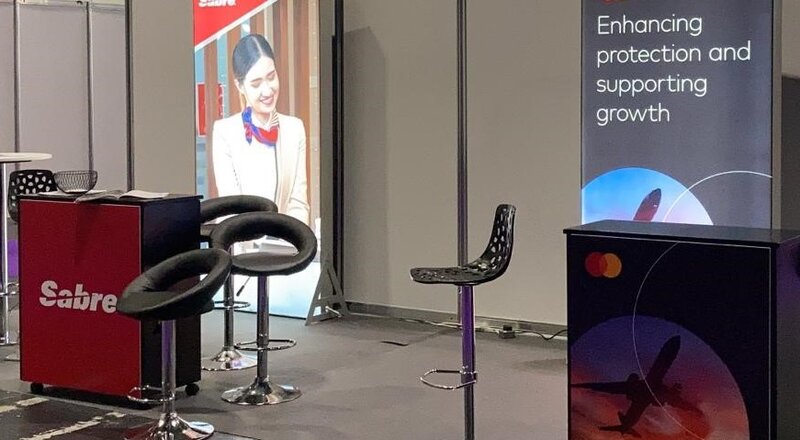 Travel Forward 2021: Sabre confident of gains after securing Google partnership
EMEA boss Salman Syed caught up with Lee Hayhurst at this week's World Travel Market
GDS Sabre is poised to appoint a new dedicated country manager for the UK among 20 new roles in EMEA as it targets taking market share from rivals.
The US-based travel and technology giant admits it has been "under-represented" in the UK where Travelport and Amadeus have traditionally been first and second in the market.
But Salman Syed, Sabre Travel Network EMEA vice president, said the firm's exclusive Travel AI tech partnership with Google will drive the sort of innovation partners are looking for.
Speaking to Travolution at World Travel Market, Syed said Sabre's pipeline of business stretching into 2022 and 2023 is the highest it has ever been in the EMEA region.
He said potential partners are looking to Sabre to provide the technological backbone to future proof their businesses and to accelerate digital transformation post COVID.
"In EMEA we think we now have to prepare for the rebound and for the future and we have been focussed on that in 2021," he said.
"The travel AI partnership with Google was a huge effort and that has not slowed down and we have doubled down on that investment.
"Google has chosen to partner exclusively with Sabre, it has placed its bets from the travel perspective on Sabre.
"We see Google as the world leader in using artificial intelligence for search and for shopping and in machine learning and developing the algorithms to build on what we know about consumers.
"This is not just a concept. For our customers it's about future proofing and survival and they want to see innovation now."
The three areas of technology focus for all travel firms are automation, particularly related to service issues, improving the search and shopping experience and back office productivity, Syed said.
To make the onboarding process easier, Sabre has develop an almost 100% digital engagement process it has been promoting under a Switch to Sabre campaign.
Syed said Sabre is not just tapping into Google's technological expertise but through operating joint teams learning about how the tech giant develops software and products.
This week Sabre unveiled the first two products in its Retail Intelligence suite: Sabre Air Price IQ and Sabre Ancillary IQ for the dynamic pricing of airfare and ancillaries, respectively.
Syed said the Sabre Red 360 travel agent platform is already seeing the benefits of the Google collaboration, allowing the firm to compete on the quality of its technology rather than just commercials.
However, he said Sabre had been very happy to be flexible with customers on commercial contracts due to the impact of the pandemic and it has seen a 90% retention rate in the EMEA region.
The newly created UK country manager position is among 20 new middle management roles recruited for in EMEA including account executives and technology consultants.
Syed said this takes Sabre to beyond pre-pandemic staffing levels in the region as it gears up to address future challenges for the sector.
"With Sabre's business you almost have to take a 24 month view. What Sabre does is be the backbone of the agency business, so this is not a three month or six month sales cycle.
"What we are focussed on is investing now for what might materialise in 2023. We absolutely think that leisure travel will bounce back first while business travel will be slower.
"But we are planning for both sides of the business to come back by 2023. When people feel safe to go out to restaurants and have meetings and go on holiday, they'll feel safe to go on a business trip."
Syed said the post-pandemic world will see customers searching for travel products based on a wider set of criteria than just price, like flexibility and the ability to make changes.
This requires making many more options available, but having the ability to personalise them to meet the specific requirements of the customer.
"Our travel AI partnership with Google is about how do you develop a retailing capability that puts personalisation front and centre," Syed said.
"What's important to me on a business trip might be  different to what's important to me on a leisure trip.
"How I prioritise and search and how I want to get offers post pandemic is not going to be searching through 26 ticket classes and prices. That's been turned on its head."