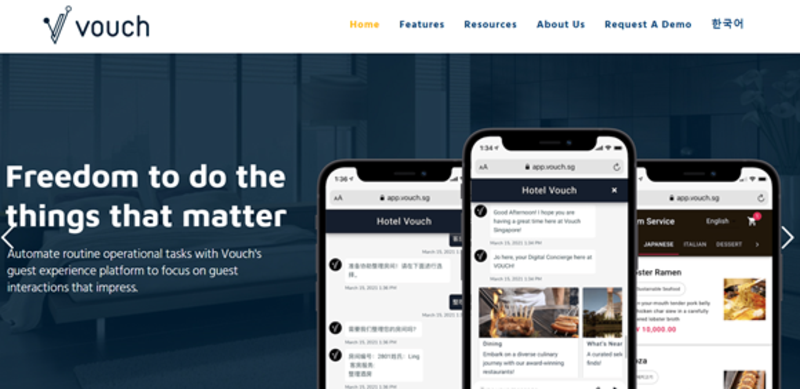 Singapore hospitality tech start-up Vouch sets up European base in London
Form uses Artificial Intelligence to help hotels boost revenues and guest experience
by Avery Ketcherside 
Singapore tech start-up Vouch Concierge has opened an office in London.
The London branch will act as a gateway to Europe for Vouch which is aiming to have at least 30% of its revenue come from the region by 2022.
Vouch specialises in AI-powered technology that enhances productivity, boosts revenue and elevates the overall guest experience for the hospitality and travel sector.
It is currently working with UK luxury boutique brands Hotel du Vin and Malmaison to set up their pre-stay concierge and with six other properties under the Frasers Hospitality Group.
London joins Indonesia and South Korea to become Vouch's third in-country branch.
The start-up was among the first three companies to be invested in as part of Forge Ventures' debut fund, earning it seed funding of SDG$1.51 for expansion and product development.
Joseph Ling, founder and chief executive officer, said: "In Singapore, for example, we have covered
25% of all rooms under international groups such as Frasers Hospitality, Hyatt Hotels, Pan Pacific Hotels Group and the InterContinental Hotels Group.
"There is a genuine need for a solution that helps hotels improve manpower efficiency and the
pandemic has accelerated this need. Our plan this year is to expand aggressively into new markets that will benefit most from a productivity platform like ours, namely Hong Kong, Macau, South Korea and the United Kingdom."
Tiang Lim Foo, co-founder and partner at Forge Ventures, added: "We are really excited to partner with Joseph and his team, to build the foundation of a digital future for the hospitality industry.
"I believe that the world has changed structurally in meaningful ways, and I am confident that the innovations Vouch brings to the market will help its customers adapt and thrive in the new world."