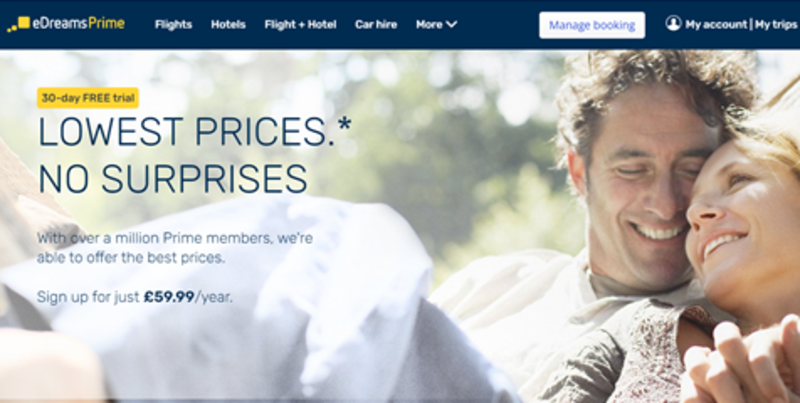 Prime subscription service launched by eDreams ODIGEO hits two million members
Leading European OTA group says demand has surged as travel has reopened
The Prime subscription service launched by European OTA group eDreams ODIGEO has hit the two million member milestone.
Prime offers members exclusive access to savings on bookings for flights, hotels and car rental for the £59.99 annual fee.
The Opodo parent said the scheme has seen a "huge surge in demand" as travel rebounds following the COVID pandemic travel bans. Membership has almost tripled in just one year.
Based on this growth, eDreams has forecast Prime to reach 7.25 million members by its 2025 fiscal year.
Currently almost two fifths (39%) of flights bookings made with the eDreams, Opodo and GO Voyages brand are for Prime members.
Subscribers two to three times more likely to book additional trips than non-Prime members, the company said.
Dana Dunne, chief executive of eDreams ODIGEO, said: "We are delighted to celebrate reaching two million Prime subscribers just six months after hitting the one million member milestone.
"We are thrilled to continue offering our members the best and most personalised travel products to help them get the most out of their holidays.
"Our tech-led approach and unrivalled scale in flight, as the number two provider globally, have helped drive Prime's success.
"While subscription services are very popular across other areas of our lives, Prime is the world's first travel subscription service offering more personalised, flexible travelling solutions best suited to our individual members' needs.
"It has helped us deepen our relationship with our customers and better understand their increasing expectations around value for money, choice and convenience when booking holidays.
"As travel and consumer demand continue to evolve in the post-pandemic world, we believe our strategic approach and market-leading products will enable us to remain at the forefront of the future of travel, tomorrow and beyond."
EDreams ODIGEO says Prime is popular across all customer profiles and age groups but most notably with those aged 18-35.
Since launching in 2017, Prime members have travelled a total of 16,105 million kilometres and visited 215 countries around the world.
The longest distance travelled in one single route by a Prime member has been almost 6,000 kilometres.
The most popular destinations among subscribers include Paris, Barcelona, Madrid, Milan and London while August is the most popular time of year to travel.