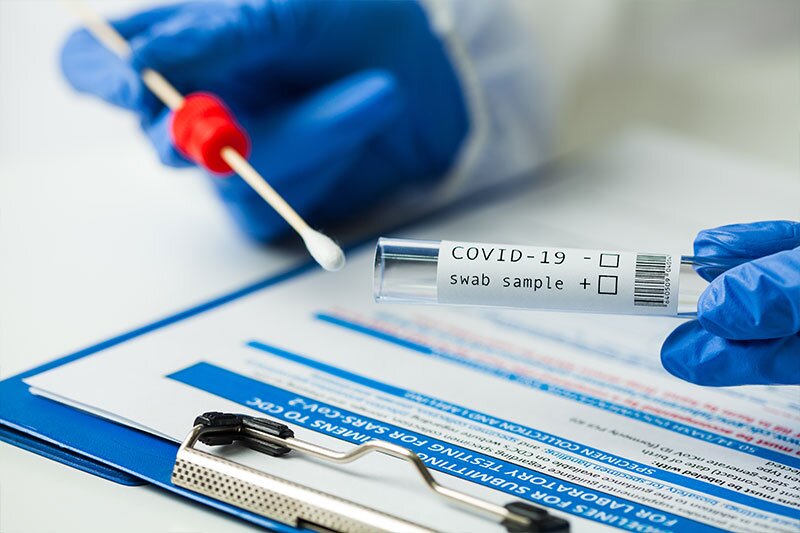 Online retail giant Amazon launched PCR test kits for travellers
Firm has invested billions on diagnostic labs in the UK and US during pandemic
Online retail giant Amazon has launched PCR test kits for £34.99 which can be used by travellers arriving in the UK.
The kits come with a pre-paid return label for sending the test swab back to Amazon's diagnostics laboratory in Manchester.
"Customers will receive test results within 24 hours of their sample arriving at the laboratory," said Amazon in a blog post.
Consumer watchdog welcomed the move, which looks set to shake up a market that has been described as a "rip-off" for consumers.
The new International Arrivals service offers a single kit which can be used for a day-two test costs £34.99; a package of two for day two and day eight costs £63.98; and a bundle of three for tests on day two, five and eight costs £95.97.
Amazon said it has invested "billions" during the pandemic to ensure the health and safety of its employees and customers – which included developing diagnostic laboratories in the US and the UK.
Its lab in Manchester has now processed more 1.4 million tests from tens of thousands of frontline employees in the UK.
Amazon said the PCR kits were made available for US customers earlier this year.
"The feedback has been positive – customers have told us they appreciate access to a reliable, convenient, and affordable test – and we're excited to extend this Covid-19 testing service to our customers through Amazon.co.uk," said the blog post.
As well as the International Arrivals service, Amazon has launched a General Testing service "for peace of mind when meeting friends, family or returning to a workplace, school, or university".
Antoine Dreyfus, Amazon director, said: "The Amazon test collection kit offers customers the convenience they've come to expect from Amazon.co.uk by providing access to highly accurate Covid-19 testing, at an affordable price."
Neena Bhati, Which? head of campaigns, said: "Which? research has repeatedly exposed providers making misleading claims, charging rip-off prices and in some cases not even returning test results to customers, so Amazon's entry into the market could offer some benefits to travellers such as access to quicker deliveries, which will be crucial over the Christmas holidays.
"For months Which? has been asking the government to take steps to properly regulate the market and implement the CMA's recommendations, including ensuring that safe, reliable and affordable tests are available for all travellers so that they can have confidence they are booking with a provider they can rely on."
---
NHS lateral flow orders temporarily suspended
Ordering lateral flow tests on the gov.uk website has been temporarily suspended to fulfil existing orders "due to exceptionally high demand", the UK Health Security Agency (UKHSA) told Sky News.
On Monday (December 14), many people complained on social media that they were unable to order rapid testing kits on the government's website.
On Tuesday, the website said: "There are no rapid lateral flow tests available to order today for home delivery
"You can still pick up rapid lateral flow tests from a pharmacy or collection point today. 111, 119 and 999 do not have access to more rapid lateral flow tests today."