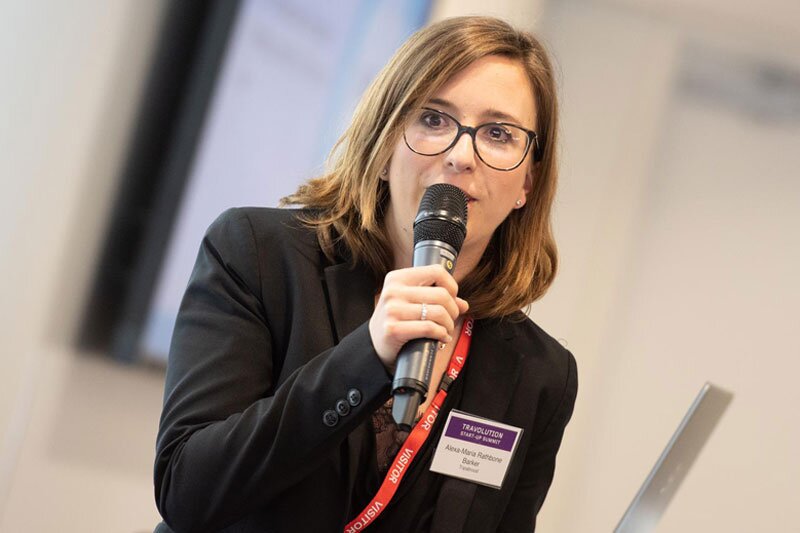 Family holidays start-up tripAbrood seeks pre-seed funding
Firm describes itself as 'world's first virtual family travel assistant'
Pictured: Alexa-Maria Rathbone Barker at Travolution's Start-up Summit 2019
The founders of tripAbrood, new UK-based travel start-up aimed at the family market, have opened a pre-seed funding round.
Described as 'the world's first virtual family travel assistant' tripAbrood aims to build an Artificial Intelligence-driven platform to help families find and book their perfect holiday.
The business now has three co-founders with experience at Bloomberg, Expedia and Lloyds Banking Group.
Original founder Alexa-Maria Rathbone Barker, formerly European head of analytics at Bloomberg), has been joined by Ketan Anand, formerly engineering lead at Lloyds Banking Group) and Vic Walia, formerly vice president global brand marketing at Expedia Group).
"I wanted an online solution to help me find what I was after quickly and efficiently. Thinking it should be much less stressful to research family holidays I decided to tour the country and see if I was alone in my assumption.  After interviewing families across the UK and hearing the same stories time and again, I realised it was not just me and that there was a real gap in the market.
"The right solution, however, needed a fresh perspective and building from the ground up. To do this I needed a tech-savvy team willing to radically shake things up."
Barker believes her founding team, which brings together over 30 years of experience in technology, travel and data stands tripAbrood in good stead as it seeks funding.
Walia brings a wealth of travel industry and brand building experience to tripAbrood, having spent the last 12 years in online travel.
While working at Expedia Group, he was also responsible for scaling the Hotels.com business. Walia is a father of two.
Anand has experience in both start-ups and large enterprises where he has built scalable solutions and high-performing teams. He is also a dad of a two-year-old.
Barker worked for financial data provider Bloomberg for a decade where she ran $200 million revenue generating businesses that sold data-driven technology solutions to the world's largest financial institutions.
TripaBrood says its aim is to create a platform that will reinvent the way families research and book their holidays online.
It has set out its vision to create a site that uses AI to match personalised recommendations with families' complex requirements.