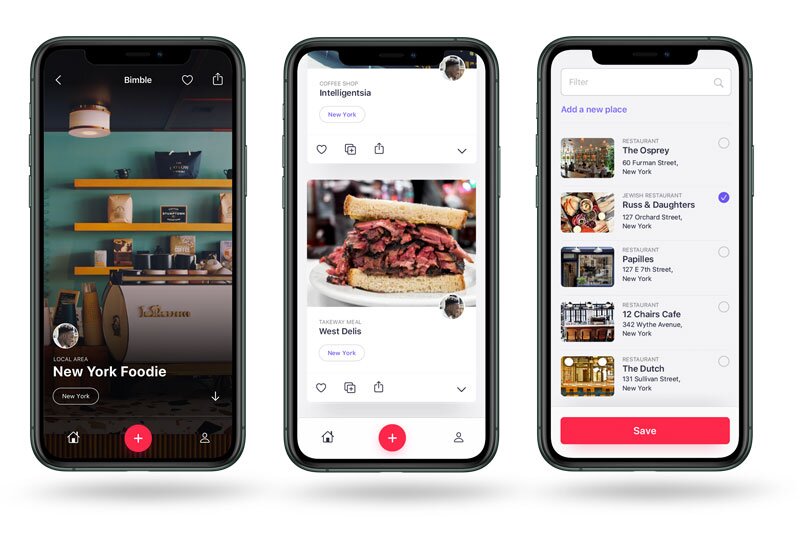 British 'Spotify for travel' start-up Bimble raises £1.3m from angel investors
The firm provides a repository for travellers to store and share details of the places they visit
British favourite travel places start-up Bimble has officially launched having raised £1.3 million in angel funding.
The firm, which provides a repository for travellers to store and share details of the places they visit has also been invited to join Google's Digital Accelerator programme.
The company, which was co-founded by Francesa Howland and Tomi Novak, has named its early-stage technology angel investors.
They have strong digital and artificial intelligence track records in travel, retail, fashion, and subscription-based companies.
Investors included Dimitris Panagopoulos, one of the original Net-a-Porter backers who led the round for Bimble, Rupert Rittson-Thomas and Julian Granville.
A third of the investment also came from female angels committed to backing other female entrepreneurs.
The investment will be used to strengthen marketing and product teams on top of further developing the platform and app.
Bimble says it plans to release new features to its iOS app every month for the foreseeable future.
Howland said: "We created Bimble after realising there are thousands of place recommendations shared every day, but no simple way to collect these and pass them on.
"As we looked more closely at the opportunity, we simply couldn't believe that no one was doing this already.
"We have spent a year getting to grips with our members and what motivates them.
"Through the app, you can curate the places that mean something to you, helping you and your favourite people better enjoy the world around you."
Panagopoulos said: "My three investment criteria are a belief in the product for being a true innovation, its potential to be globally scalable and my complete trust in the founder.
"I have every confidence in the vision for Bimble and that Francesca will deliver it. Bimble offers us a meaningful, creative and life-enhancing digital community; quite different from the social media platforms of the last 10 years."
And Granville added: "Bimble is a great idea; a brilliant way to keep, share and find new favourite places. All backed by great technology and a fantastic team."
Rittson-Thomas who previously invested in Rapha Racing, the upmarket manufacturer of cycle clothing said: "Bimble, like a lot of great ideas, is simple and scalable.  In a good way, it's addictive, as are the joys of travel."
Bimble is named after the old English word for "a leisurely walk or journey" and has ambitions to be ranked alongside technological giants like Pinterest and Instagram.
The start-up has spent the last 12 months developing its 'placelist' technology which allows users to create and share playlists like how Spotify does for music. It has developed a community of 60,000 users through beta testing.
The businesses has also formed a partnership with early-stage tech supporter, easyJet – meaning places featured in easyJet Traveller will be added to the airline magazine's Bimble page each month making it easy for users to add them to their own lists via a simple click.