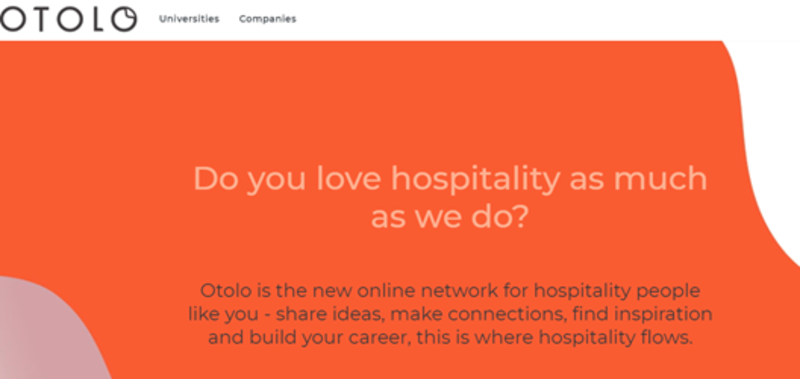 Online mentoring site Otolo launches to support he recovery of hospitality sector
Community created by consultant James Lemon to help the 1.6m sector professionals impacted by COVID-19
Hospitality professionals who have lost their jobs or been furloughed during the COVID-19 crisis have launched a mentoring website to help rebuild the sector.
Myotolo.com offers free advice and mentoring and networking opportunities to industry peers and young professionals whose work has been impacted by the pandemic.
The community platform has backing from government and was established by James Lemon, whose background includes stints at IHG and Travelport, after work at his consultancy business dried up.
With COVID restrictions set to be eased on April 12, marking a return for many domestic hospitality businesses, he hopes it will help to rebuild an industry hit hard by the pandemic.
"Despite the difficulties hospitality and its people has faced over the past year, at Otolo we are excited by the industry's future," said Lemon.
"Hospitality will rebound stronger with an engaged and skilled workforce that is passionate about getting back to what they love – which is creating memorable experiences.
"At?Otolo,?we aim to play a part in the industry permanently capturing the spirit of giving back, of sharing, and of working together to achieve bold industry-wide goals, initially supporting the recovery, and then tackling areas like sustainability, diversity and technology innovation."
It is estimated that 1.6 million UK hospitality professionals, accounting for half the sector's workforce, face an uncertain financial future due to furlough or redundancy.
Otolo evolved from a pro-bono online mentoring platform offering?support to professionals who were out of work, furloughed, or working in a?fast-changing?situation.
After being awarded a UK Government grant to develop a full service, the site has set its sights on supporting workers globally in an increasingly competitive jobs market.
The site has a growing community of over 800 members at varying stages of their careers.
It is used by over 20 organisations such as top hospitality chains Marriott and Accor, leading global hotel schools Glion and Les Roches, and various universities across the UK.
Otolo says its mission is to "help everyone passionate about hospitality to reach their potential through mentoring, networking?and?knowledge sharing creating openness, credibility, and a willingness to give back".
The platform offers discussion groups, forums, and messaging boards, where members can meet each other, find people with similar interests, share articles and insights, and work together to build their skills.
Once connections?have been made, hospitality professionals have the chance to connect?for a virtual meet-up?and?then potentially explore mentoring, which can be one-to-one or group mentoring in a Mentoring Circle.
Further developments planned for 2021 include a mentoring-powered jobs board, giving people a chance to access career advice or functional mentoring?before,?during, and after the application process.