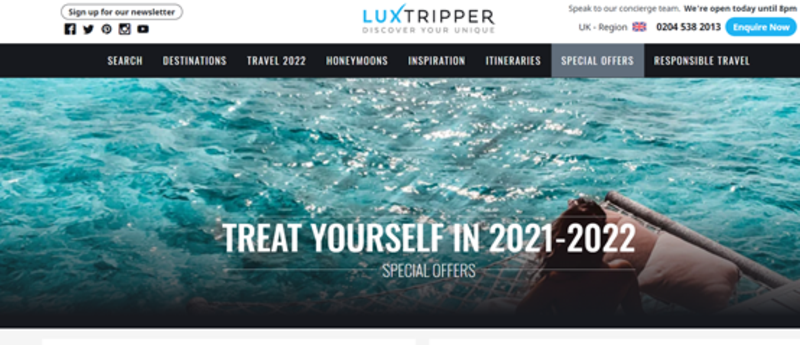 Luxtripper looks to attract new talent with staff benefits launch
Luxury operator recruiting for roles in marketing, technology, sales, customer experience, finance and product
by Avery Ketcherside
Luxury tour operator Luxtripper has unveiled new staff benefits as it looks to grow its workforce.
Benefits include unlimited holidays and the ability to work anywhere in the world.
All staff are being offered cost-price holidays, structured personal development programmes, and full employee wellbeing support for staff and their families.
Luxtripper is looking to fill positions in marketing, technology, sales, customer experience, finance and product.
The luxury tour operator was established in 2015 and since then has grown a strong presence on social media.
Luxtripper uses leading technology to customise itineraries for its clients within the same day.
Now with over 100 staff across the UK and India, the company is looking to increase its team by up to 50% over the next 12 months.
Victoria Kiss, talent manager at Luxtripper, said: "Our people are our biggest asset, so this was an easy decision for us.
"Since the start of the pandemic, our staff have gone above and beyond for our customers, and for each other – if we didn't feel like a family before, we certainly do now.
"We're brought together by a passion for great customer service, but also a passion for travel, and we want our employees to get out and enjoy the world as much as our customers do."
Nena Chaletzos, founder and chief executive officer of Luxtripper, added: "As a fast-growing business we're always looking for great talent, and we want the best to join us on this exciting journey as we continue to invest in our technology and product offering to bring more incredible experiences to our clients.
"Investment in people is an investment in our future, and we hope this new suite of benefits for our staff will allow us to take our company from strength to strength."