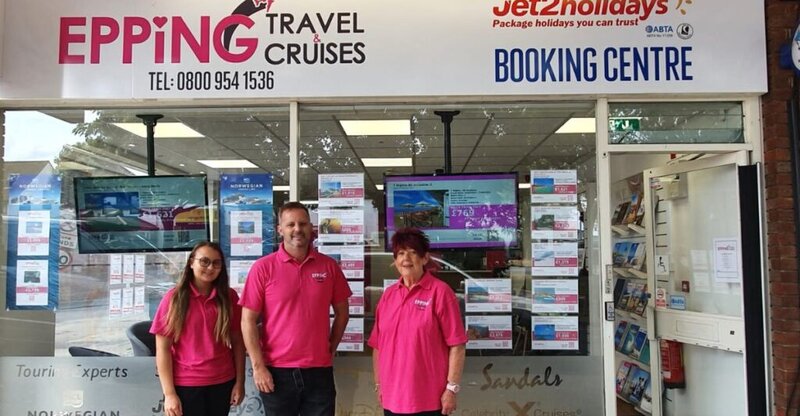 OTA boss opens first high street shop
Epping Travel & Cruises was first identified by managing director Ian Gilder before the pandemic
The boss of online travel agent Adore Holidays has opened his first bricks-and-mortar shop after 24 years in the industry.
The site, called Epping Travel & Cruises, was first identified by managing director Ian Gilder before the pandemic.
Midcounties Co-operative, Thomas Cook and most recently Hays Travel have all opened branches at the site in the past.
Gilder said: "It has been a travel agency for more than 30 years. The town has been overwhelmed to see it back open. They've been saying we've been waiting for us to open up.
"It has taken me 18 months to get the lease done. I wish I had opened a couple of months ago as September, October and November are not great travel months. However, it is what it is."
Previously, Gilder ran Adore Holidays from a former school in Harlow. Asked why it has taken him 24 years to open an agency branch, he said: "A few years ago if someone had asked me to open a branch, I would have said 'no'.
"Here [in Epping] I pay £1,500 a month more but it's a lovely location on the high street, which is a thoroughfare for Buckhurst Hill and Chigwell."
Gilder said the shop's fittings cost "very little" because he chose to retain the existing fittings.
But he has added a Nintendo Wii console for children to play while parents discuss holiday bookings with staff at the branch, which is a Jet2holidays booking centre.
Most customers have asked for brochures to take home with them, said Gilder, who added: "Trying to get hold of them is really difficult."
There are just "a few" on brochure ordering service TradeGate, he said, adding: "Please help and send out some brochures. We have 20 in total."
Despite the lack of brochures since the shop soft launched two weeks ago. Gilder estimates the agency has made 12 bookings so far, including one worth £11,000 with Jet2holidays last week.
Currently, Gilder has four employees, including two sales staff, but he is actively looking to recruit full-time staff members.
Asked why experienced agents should come and work at Epping Travel, Gilder said: "I am not going to micro-manage them and it's very chilled here.
"I am wearing shorts and a T-shirt."
The official opening of the store took place on Saturday (August 6) and Gilder outlined how customers would have a chance to win a £250 Jet2holidays voucher, while the first 20 bookers on the day will receive a glass of prosecco.