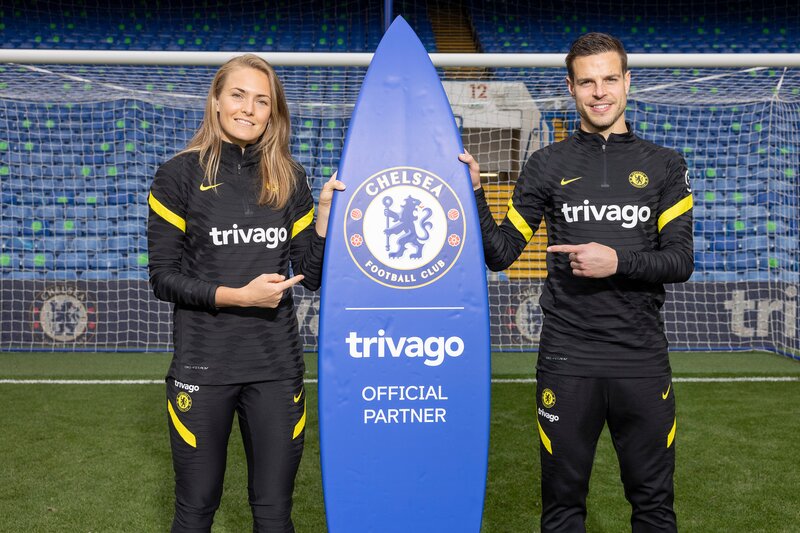 Trivago promotes broadening range of product with Chelsea FC sponsorship
Deal was announced yesterday at the renamed 'Stamford Beach'
Trivago will use its new training kit sponsorship of English Premiership highflyers and Champions League finalists Chelsea FC to promote its broadening range.
The accommodation price comparison website revealed the new deal at a media event at home ground Stamford Bridge, renamed Stamford Beach for the announcement, yesterday.
Trivago has recently launched a new product range in US and UK markets called Weekend highlighting getaways that travellers can experience while in destinations.
The partners have developed integrated promotional campaign 'Let's Go' that will promote 'money can't buy' experiences on traditional media and online and at the ground on match days.
Axel Hefer, chief executive of Dusseldorf-based trivago, said the Chelsea brand aligned with Trivago as an innovative global travel technology business.
He told the event via a pre-recorded video message: "Coming out of a global pandemic bringing the joy of football and travel with a forward-looking partner is really a once in a lifetime opportunity.
"We have developed an innovative sports sponsorship concept built around the training kit. We, as a business, are very passionate about football. It's part of European culture and a part of all our lives.
"Football is bringing people together and what matters to us is they are experiencing unique moments together. Football is bringing joy to all our daily lives."
The multi-year partnership, which will officially begin following the club's final Premier League fixture against Aston Villa on Sunday, will see trivago feature across the club's training kit for the men's, women's, and academy teams.
Guy Laurence, Chelsea FC chief executive, said: "We are all looking forward to that moment when we can travel freely again, whether that is to watch Chelsea or to have a long-awaited holiday away from home, so I'm really delighted to be welcoming trivago into the Chelsea family.
"With a global platform that is truly best-in-class, we will be proud to wear the trivago name on our men's, women's and academy training wear."
Starting in July, fans around the world will be able to sign up and participate in monthly Money Can't Buy experiences that you can't get anywhere else.
These experiences will range from opportunities to meet the players, get coaching sessions from the Chelsea trainers and access to the exclusive trivago suite at the west London stadium.