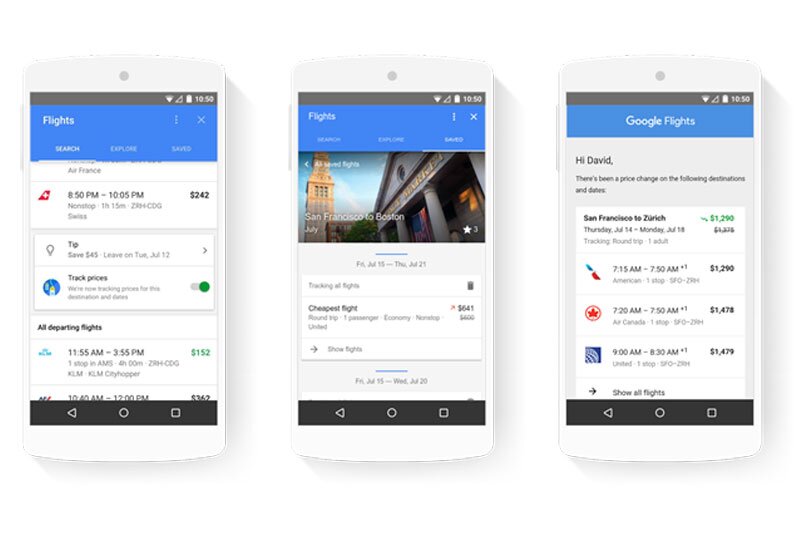 Google unveils enhancements for travel search and conversions
Google has announced a host of new features to make travel search simpler and aid conversions for retailers.
Google has announced a host of new features to make travel search simpler and aid conversions for retailers.
 
In a blog published on Tuesday afternoon, Google stated that it expects mobile to "play its biggest role ever" during peak shopping season – October through December – this year.
Mobile travel and shopping searches are already up almost 30% year-on-year, the search giant claims, and visits to mobile travel sites made up 40% of total travel web traffic in the first quarter of the year.
Google has also found travel mobile conversion rates have grown 10% as users are increasingly ready to book on mobile.
 
The new Google features being introduced are intended to make travel planning and mobile shopping simpler in advance of the shopping season.
Hotel smart filters
Users will now have the option to filter hotel search results based on specific needs. An example given by Google is travellers being able to filter based on rating or price with one tap on their mobile phone. The query could be "Pet-friendly hotels in San Francisco under $200".
This feature is available in the US and will roll out globally later in the year.
 
Google also wants to reassure leisure travellers that they are finding the best price. "To help users feel more confident about making a booking, we're working on making it easier for people to filter to find the right flight or the right hotel – at the right price – using our technology and real-time analysis," read the blog.
Hotel Deals
When searching for a hotel, users will occasionally see a "Deal" label which flags when a hotel's price is lower than usual or when there are discounts on the normal rate for the dates requested. Google claims early tests show hotels marked as having deals receive around twice as many bookings.
Hotel Tips
Tips are another way Google is using real-time analysis to help users find the most appropriate hotels for their needs. Tips may be shown to people when they could save money or find better availability by moving their dates slightly.
Deals and Tips are being rolled out globally now and over the coming months.
Flights price tracking
"To help price-conscious travellers stay on top of changing flight fares, we're making it easier to track flight prices in Google Flights," read the blog. Instead of having to continually check prices, users can now opt-in to track fare changes for a date and route combination or track specific flights.
When prices either increase or decrease significantly, users will be notified by email and Google Now cards. This feature is rolling out over the next few weeks in all 26 countries in which Google Flights is available.

Enabling Shopping Across Borders
 
Google is currently testing a tool to complete currency conversions in the UK, Australia, Switzerland and Canada. This feature allows merchants to convert the currency in their product data locally, meaning websites and landing pages do not need to be changed accordingly. Google will be rolling out currency conversions more broadly over the coming weeks.