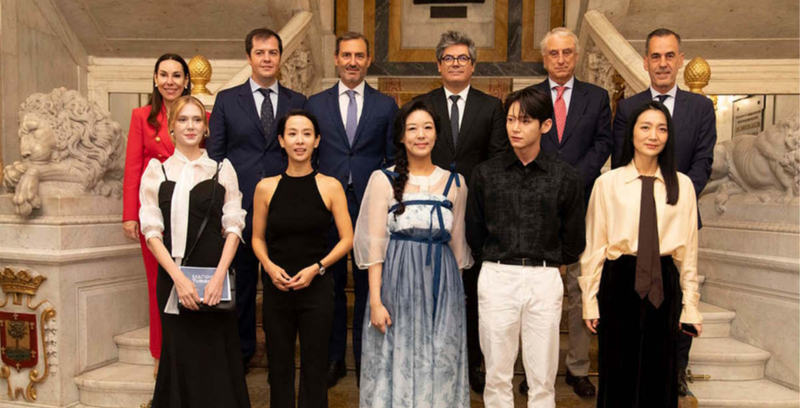 Madrid appoints Korean stars as tourism ambassadors
Madrid Turismo by Ifema Madrid, organisers of Madrid Tech Show, made the appointments
Madrid's tourist board has appointed four famous South Korean personalities as international ambassadors to promote the city's lifestyle, cuisine, culture and heritage.
The quartet are Cho Yeo-Jeong, known for her appearances in films such as Parasite and The Concubine; Kim Joo-Ryung, famous for her role in the Netflix series The Squid Game; Jeon Changa, global brand ambassador for Boss and model for MAC; and fashion designer Danha, known for being the creator of the wardrobe of the K-pop group Blackpink.
Madrid Turismo by Ifema Madrid, organisers of the Madrid Tech Show, appointed the four stars in a ceremony at the city's historic Palacio de Santoña.
It means they have become the first international ambassadors of a joint project by the regional government of Madrid, Madrid City Council and Ifema Madrid – which is a trade fair organiser formed by the Community of Madrid, Madrid City Council, the Chamber of Commerce and Industry and the Montemadrid Foundation.
As part of their role as ambassadors, the stars have explored the highlights and landmarks in the Spanish capital, as well as visiting the Mercedes-Benz Fashion Week Madrid.
During the ceremony at Palacio de Santoña, the ambassadors received a traditional Spanish cape from Madrid tourism bosses.
The ceremony was hosted by Yolanda Perdomo, director of Madrid Turismo by Ifema Madrid, and Lara Benito, a singer, model and actress from Madrid who is famous in South Korea.