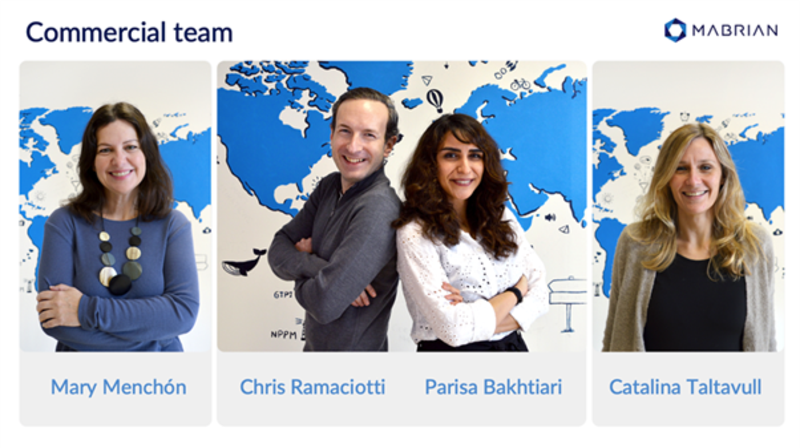 Mabrian sets sights on international growth with expanded business development team
The travel intelligence specialist adds to its multicultural team which has grown 20% in the last year
Travel big data and insights specialist Mabrian has strengthened its business development team as it targets international expansion.
The Spanish firm has identified Italy, France, Portugal, Greece, the Balkans, the Middle East and Latin America for growth.
Mary Menchón, Chris Ramaciotti, Parisa Bakhtiari and Catalina Taltavull have joined the commercial team "to bring tourism intelligence closer to the many different destinations and markets that want to promote better decision-making based on data and real-time information on trends, tourist satisfaction rates and other relevant indicators for them".
All four new hires have an international profile with experience in the tourism sector with tourism bodies and in the hotel sector. They will be responsible for specific regions.
Mabrian's workforce has grown 20% in the last year and the firm said it is more multicultural than ever. It now has 27 people of 11 different nationalities, speaking 10 languages, among six departments.
The team is located in Menorca and Barcelona but the firm has committed to operating a hybrid work model.
Santi Camps, founder and chief executive of Mabrian, said: "We want to officially welcome our new colleagues, who are now already part of the Mabrian family.
"The objective for all of us is clear: turn data and information into answers for our partners, enabling smarter decisions, whilst increasing the efficiency and sustainability of the sector".
Ramaciotti, business development manager for Northern Europe has extensive experience in the luxury hotel sector.
"the technology developed by Mabrian is a central element when it comes to meeting the needs of a traveler since we accompany destinations and companies so that they can better understand their behavior and adapt their strategies," he said.
Bakhtiari, business development manager for Asia, the Middle East and Africa, is a telecommunications engineer with a background in tourism.
She said: "I am passionate about exploring data in tourism, and with this passion I am dedicated to facilitating the incorporation of tourism intelligence in tourism policies and strategies, whilst helping the sector to take advantage of the opportunities of big data."
Menchón, business development manager for Spain, Portugal and LATAM, added: "At Mabrian, a company that I have known since 2018, I know how to provide the vision of working and implementing the use of big data for DMO's from scratch, since I myself experienced that process.
"For me, being able to help tourist destinations implement this tool and being able to continue contributing my part for the recovery of tourism is my greatest motivation."
Taltavull, global public procurement coordinator, said: "We are facing the birth of a new service sector for tourism managers: Tourism Intelligence.
"The highly unstable context that the sector is facing makes administrations increasingly see the need to professionalize and have information to make better decisions.
"At Mabrian what we have is a solution developed and approved with more than five years of experience in the market, ready to provide an agile solution to the sector."