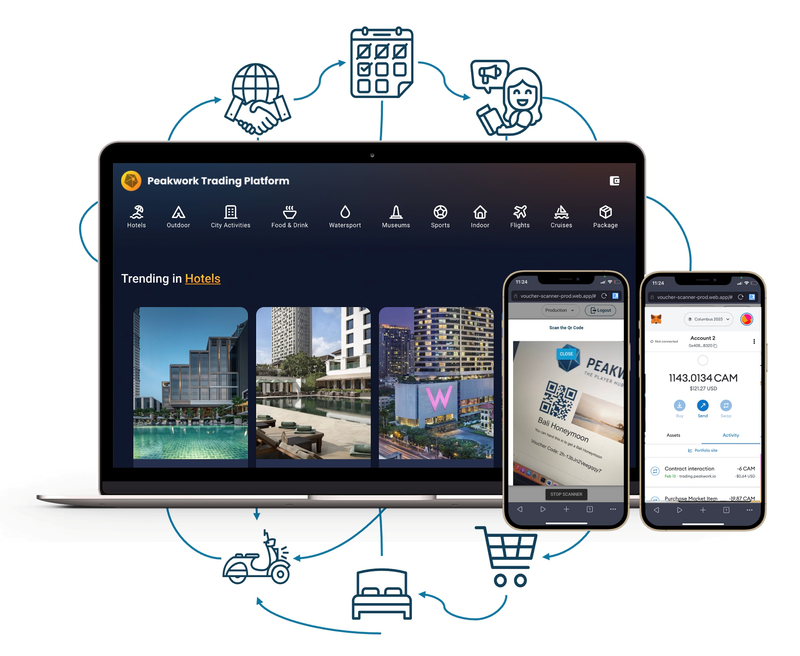 ITB 2023: Peakwork set to unveil Web 3.0 software for travel agencies
Special deals for licences for Peakwork SET will be offered to visitors of the annual trade show in Berlin
German travel technology developer Peakwork will begin agreeing licence deals with customer for its new travel offer comparison system at ITB in Berlin next month.
Peakwork SET has been successfully tested with a number of travel agencies, including those in the LCC franchise, and is now ready to be rolled out to the wider travel sector.
The technology is described as "consulting software, specifically designed for travel agencies, as well as innovative business."
It has been built on a modern Web 3.0 Travel Platform based on blockchain, can be accessed via web browsers and offers decentralised apps (dApps) to travel sellers.
Peakwork said offers from leading tour operators for packages, hotels and flights can be "quickly and conveniently searched and then easily transferred to one of the leading booking systems".
The firm added: "The consulting approach is new: selected hotel sets can be saved, according to the preferences of specific customer target groups.
"This way, travel agents are prepared in advance prior to every customer consultation to drive success.
"The ability to share these hotel sets among travel agency colleagues makes the program particularly attractive for new employees to the travel industry."
Among other advantages of Peakwork SET are the ability to search properties according to GlobalTypes, categories established by German travel organization DRV.
Users can also make multi-room searches with individual room and board options and access a direct display of the total price.
Peakwork will be running demonstrations of the technology on stand 109 in hall 5.1 at ITB Berlin between March 7-9 where it will be offering special deals on licences for SET.
At the trade show Peakwork will also present new applications for the distribution of travel products, services, and companion solutions based on Chain4Travel's Camino blockchain.
"These are designed to create exciting experiences for brands and travellers by leveraging this next level of travel technology," Peakwork said.
The firm's Web 3.0 Travel Platform building blocks encompass:
The Peakwork Trading Platform empowers B2B customers to freely trade travel products in a controlled, fully trackable way with immediate settlement between businesses and consumers.
A Voucher Platform for complex cross-partner interactions. Vouchers can be distributed as NFTs on both social media and Web 3.0 blockchain marketplaces.
A Recognition Platform that enables Web 3.0 and traditional rewards to be collected and redeemed within one programmes or across multiple programmes.
Visitors to the Peakwork stand will be offered advice on Web 3.0 and dApps implementation on blockchain as well as how to become a validator node for partners of the Camino blockchain.