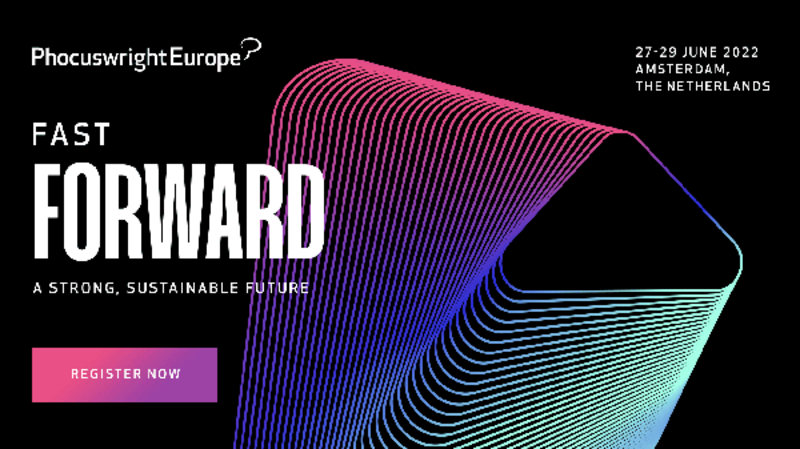 Pocuswright Europe 2022: Fast forward - a strong, sustainable future
The annual travel conference returns as an in-person event next month in Amsterdam
The travel industry has survived two years of extremes – from the lows of pandemic shutdowns to the highs of pent-up consumer demand.
The "recovery" has been inconsistent, and travel companies remain optimistic, but cautious, as they forge ahead.
The lessons learned have been tricky to navigate: be guarded, but flexible, and never lose sight of the prize ahead.
As travel comes out the other side, there is a sigh of relief, but much work still needs to be done.
The old rulebook may be set aside, but a new one must be written that embraces the traveler, sustainable practices and the technological achievements that make progress possible.
Travel companies have learned many lessons in the recent past, all while juggling government regulations, safety protocols, product availability and consumer demand.
Hopefully all that confusion will soon be left behind in pandemic dust as the industry rekindles lost business and builds new revenue streams.
But just when consumer demand returns with a vengeance, the industry faces a new challenge: how to act responsibly toward the environment and society while still growing revenue and honoring travelers' requests.
Travel companies must walk a fine line between pursuing a viable, green future and meeting the demands of hungry travelers, some of whom are venturing out for the first time in two years.
Reducing carbon emissions and protecting destinations is important, but charting a course that is fulfilling, transformative and meaningful for all stakeholders is even better.
This balancing act requires taking solid steps to build a sustainable future while expanding the traveler's mindset toward new experiences, so everyone benefits.
What does a post-pandemic view look like? Consider these three things happening right now in European travel:
Digital Destiny. Digitalization in its many forms requires re-invention and risk taking. Can the traditional, legacy players thrive again or has the pandemic erased the old to bring in the new?
Certainly, suppliers, retailers and destinations must work together to deliver on traveler expectations throughout the customer journey.
These include AI-based recommendations and offers; digital IDs for frictionless travel; efficient, contactless check-in processes; continued safety precautions; and an overall improved guest experience.
New winners will emerge as more companies seek to assert themselves. Large intermediaries will continue to get bigger: Who survives? How much more consolidation is on the horizon?
Green Dreams. Europeans are passionate about protecting the environment: Most people want to travel sustainably, and some will even pay for it.
But industry players – airlines, hotels, tour operators, railways, destinations and corporations – need to take responsibility for how they treat the people and places that keep the industry humming.
There is no better time to make good choices, as we ramp up and consider who to hire, how to organize and where to invest. How does the industry realistically approach and achieve sustainability?
More Money. Large investments are required for the industry to not only rebound, but to innovate.
Travel businesses need new ways to deliver content, analyze data and manage traveler expectations.
Startup funding must accelerate for Europe to be ready for the travel renaissance that's ahead. Vetting and supporting new ideas is crucial. What are investors looking for this time around?
The green light to travel has once again opened the floodgates, breathing new life into the European travel sector. But a lot has changed over the course of two years.
Travellers have different expectations now, and the bar keeps getting raised on how to service them (just when labor shortages are an issue).
Yes, the travel industry has survived years of extremes, and it's time to celebrate. But it's also time to reassess what the next decade will look like. Fast Forward – A Strong, Sustainable Future lies ahead.
This year marks the return to Amsterdam for Phocuswright Europe and promises to be a reunion for the industry's smartest and brightest travel executives.
Expect highly targeted networking opportunities, the smartest voices in travel, expert insights and more from 27-29 June in Amsterdam.
You can register for Phocuswright Europe 2022 before ticket prices increase on 31 May here.