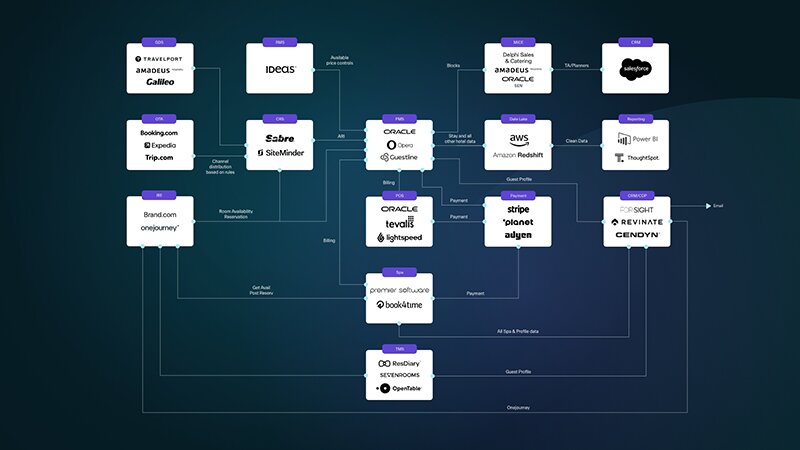 Guest Post: What boutique hotel investors should know about hotel tech stacks
Simon Kaye, strategy director at Journey Consultancy, on how investors can maximise revenue
Boutique hotels are capable of maximising considerable income within a relatively stable and predictable market demand that benefits from peak periods throughout the year. The boutique hotel market was estimated at US$93.37bn in 2022, with projections of US$115.80bn by 2032, at a CAGR of 6.7%.
It's a sector where additional revenue can be generated across the business and throughout the customer journey by working with numerous revenue streams beyond rooms, including food and beverage, events, and amenities like spa and golf.
Therefore a well-managed property not only attracts returning guests but is open to local footfall and day visitors, each audience boosting profitability and offering greater potential for long-term appreciation - which is what investors are looking for.
The importance of the hotel tech stack
The question investors must ask is - how well are properties performing compared to the market opportunity?
Hotel performance is not just down to staff operating the property and providing guest services. The property's performance also relies on an efficient and optimised hotel tech stack which supports operational delivery set up to maximise revenue opportunity and provide digital services that augment the guest experience.
While investors often receive hotel performance reports that summarise key metrics like occupancy, ADR and possibly RevPAR, it's important to delve deeper for greater transparency of performance across the business beyond just bedrooms - to identify lost revenue opportunities or excess costs.
It's crucial investors understand when a property is not performing to its optimum potential to be able to identify where the problems lie. A cohesive tech stack is vital in collecting, collating and sharing such business-critical information.
Assessing hotel system performance
Technology has evolved with more off-the-shelf solutions that are accessible, affordable and easily implemented into hotel ecosystems with the ability to customise the UX and system function. Hoteliers have no need to invest in high CAPEX to get tech stacks off the ground anymore; instead they can focus on driving efficiencies across the business.
Today's hospitality tech stack should be cloud-based and API-first, capable of connecting with multiple systems to share hotel data and support guest-centricity. With that technical proviso covered, you need to ask whether the systems in place are:
1. Correctly configured for the hotel's operations?
2. Fit for purpose for the property?
3. Used effectively by hotel staff?
4. Capable of delivering on the core commercial goals?
Based on my 30 years of hospitality technology experience, most owners and operators seeking to improve will answer 'no'. The question then becomes which part of the tech-stack is underperforming and requires the most urgent attention?
Does the tech fit?
The choice and business use case for hotel systems depends on a variety of factors such as the hotel's size, location, target market, and specific needs. As a base, there are some common technologies that provide important tech architecture for a boutique hotel:
Property management system (PMS)
The centrepiece of hotel technology is the PMS - without this you cannot get heads on beds. A PMS supports staff to manage daily operations such as bookings, room assignments, housekeeping, inventory management, billing, and reporting.
A cloud-based PMS can provide real-time access to data, automate manual tasks, and improve guest experience.
However, it's essential that the PMS is configured to the needs of the hotel's commercial operations to deliver the benefits and return of the investment, for example:
● If 30% of business is events, ensure the PMS is easy for staff to set up block bookings, and that event planners and guests can manage and monitor their block
● If the property has a wide variety of rooms with features that attract a larger price differential, rooms and rates set-up needs to support dynamic selling
● If the business utilises short pick-up business travel during the week, configure rates to be competitive against a qualified competitor set
● If the property wants to attract a wider demographic or specific guest profile, the PMS needs to connect with a CRS to manage inventory distribution to the correct channels.
Channel manager
Distributing inventory across multiple online travel agency (OTAs) partners such as Booking.com, Expedia, and Airbnb, channel managers maximise occupancy rates, reduce overbooking, and increase revenue. Are connected sales channels targeting the hotel's profitable guest profile and generating bookings?
Booking engine
Enabling hotels to accept bookings through their website or mobile app, booking engines can provide personalised booking experiences, promote upselling, and increase direct bookings - thereby improving profits. Is the direct channel converting and delivering higher cost per acquisition?
Customer relationship management (CRM)
Managing customer data, guest interactions and feedback to understand guests' preferences, CRMs tailor marketing campaigns and improve customer loyalty. Is the guest profile and target demographics clear and focused?
Digital systems
Fast and reliable internet with adequate bandwidth and coverage is essential for the guest experience and hotel operations.
An internet service fit for purpose supports functioning PoS networks, housekeeping and maintenance systems as well as in-room technologies.
In addition, Electronic Door Locks enhance security, reduces key management costs, and streamlines check-in and check-out processes.
Analytics and business intelligence
Monitoring property and brand performance metrics, analysing market trends, and making data-driven decisions, a good BI tool will provide insights into revenue management, guest satisfaction, and operational efficiency. Can decisions be made quickly from live data?
Modern digital delivery
Lest we forget that guests expect a modern functional digital experience and exceptional personal service. Their decision to stay is often based on the modernity of the hotel website and the ease to book the stay they are looking for.
The airline sector has long established consumer expectations with simple and seamless online reservation experiences that offer personalised travel bookings - whether selecting your seat, opting for baggage or boarding priority, and adding extras like transfers - all empower the guest to take charge of their own experience.
As such, hotels' direct booking channels must reflect the consumer expectation to successfully secure more bookings and optimise revenue from every guest.
Although the PMS is the centre point for operations, guest booking components (which personalise the digital experience) are just as important. Success comes from translating these unique experiences into a well crafted, guest-centric booking process.
Be personalisation-ready
Today's hotel tech disruptors tend to be solutions that facilitate greater personalisation for guests. Customers spend more when they feel the service and offers are personalised; online retailers already provide this, and hotels need to follow suit.
Using first-party customer data, underpinned by AI, can power personalisation efforts with consistent 'on brand' messages throughout the sales cycle.
Collecting first-party data need not be difficult. 77% of regular online users believe social login is a good way to register their details, but as seen throughout ecommerce, users are happy to share details where there's a reward - whether that be easy access to content, financial (i.e. loyalty schemes), or time saving (details remembered).
Furthermore, digital IDs can link to digital wallets like Apple Pay, whilst the hotel collects guest data first-hand such as name, ID, profile URL, interests, and location.
What to consider when planning or reviewing a boutique hotel's tech stack
Overall, the ideal tech stack for a boutique hotel is a combination of technologies that streamline operations, enhance guest experience, and increase revenue. This is no mean feat as there are considerations and complexities to each element.
When planning or reviewing your boutique hotel tech stack:
1. Take the time to review every aspect of the property's commercial strategy, aligning the hotel tech stack to the business needs and objectives.
2. Find technology partners who provide the level of support and training at the right cost for the team.
3. Ensure systems are set up with the right level of staff user access. Train the team on both the basics and role-based usage.
4. Monitor the system to identify any issues in the tech or the property's internal processes.
Overall, configuring a hotel tech stack requires careful planning, attention to detail, and thorough testing to ensure the system meets the hotel's specific needs and provides a seamless guest experience.
The same principles apply to every platform in the stack. When looking to change providers, a cloud-based system with an API-first approach eases migration and integrations with the wider ecosystem.
Get returns from your hotel investment
There is not a silver bullet tech stack for a boutique hotel: you will see the best return from a well-configured solution that has the capability to deliver your specific commercial objectives.
Technology should be the strategic enabler for your business, providing the integrations and distribution to scale. The right system partners provide you with scope for expansion while supporting you with regional nuances to manage industry restrictions.
When assessing suitability, consider:
1. Does your PMS work correctly?
2. Does your online presence meet guests' expectations?
3. Can AI help you deliver a personalised experience?
Remember that while the PMS is central to your hotel's operation, working to a robust set of principles will keep the project on track and your sanity intact.
And hold 'cloud-based, API-first' as your mantra to future-proof the tech stack.