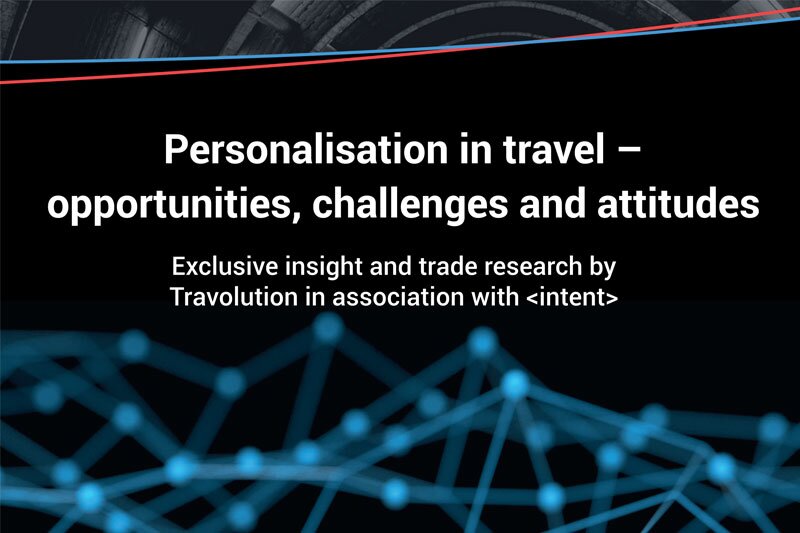 Whitepaper: Personalisation in travel – opportunities, challenges and attitudes
Results of exclusive survey revealed at Travolution Summit in partnership with
81% of UK travel sector respondents say providing personalised experiences to customers is very important, but many in travel believe the industry is woefully behind.
Travolution and <intent> collaborated on exclusive research to deep dive into the opportunities, challenges, and attitudes being faced with personalisation in travel.
Download the whitepaper to get a glimpse of where travel companies are investing, struggling, and winning with personalisation. Discover how brands are harnessing their own data and using the real-time power of machine learning to stay competitive and better serve their users.
---
The need for travel brands to provide personalised experiences is widely acknowledged in the UK travel sector, according to the results of an exclusive survey by Travolution.
The specialist online digital travel and technology website in the Jacobs Media Group polled its readers and those of sister title Travel Weekly, the UK's leading trade title, for a new whitepaper.
---
---
The results were unveiled at the annual Travolution Summit by survey partner <intent>, a leading data analytics firm that specialises in travel and ecommerce.
The survey found that 81% of respondents considered it very important for brands to provide personalised experiences to their customers.
In addition, 84% of respondents said that their firms were planning to invest more in personalisation capabilities in the next three years.
Among the risks of failing to invest in personalisation, respondents cited loss of market share from competitors who do and the threat from global web giants, Google, Amazon and Facebook.
Marketing, customer service and the booking process were seen as the areas most important for travel firms to provide a personalised service.
But other areas where there are potentially greater immediate gains like website user experience, mobile and re-marketing were not considered priorities.
The survey also asked respondents about attitudes towards using customer data to create personalised experiences.
Around a third said they thought customers are becoming slightly more tolerant while over a half said they liked being offered personalised experiences when they are relevant.
Lee Hayhurst, Travolution executive editor, said: "Our survey has offered a snapshot insight into travel professionals' attitudes about personalisation.
"Although there was clearly a positive response to the potential benefits, there was maybe an under appreciation of how personalisation and taking a data-led approach can benefit all areas of business.
"With Google, Facebook and Amazon able to invest billions of dollars on understanding the data they have on their users, it's critical travel brands do more to stay relevant to their clients."
Richard Harris, chief executive and co-founder of <intent>, said: "We are living at a particular moment when data is power.
"All of us must understand that data is one of the most vital assets to our businesses. If data is economic power, companies that don't fully leverage their own data assets are choosing a perilous path."