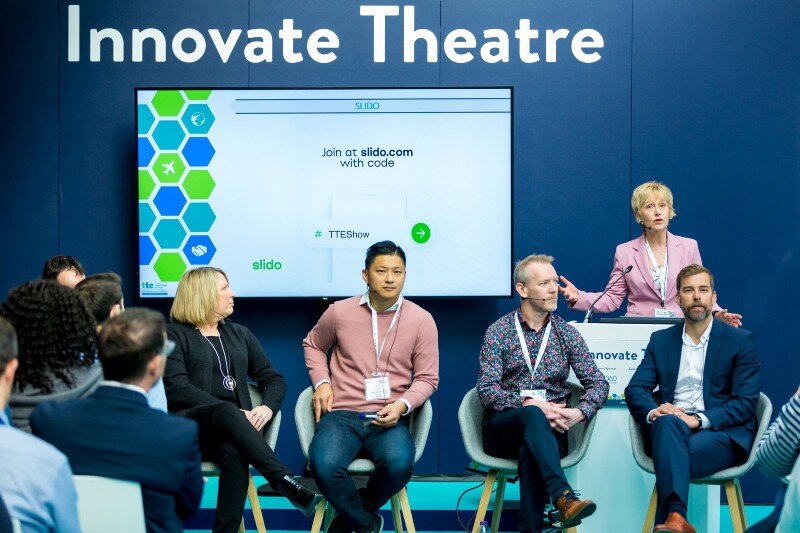 TTE 2020: Travel execs encourage transparency and collaboration to achieve digital transformation
Lee Hayhurst reports on a panel of c-suite experts from TTE on emerging technology for the business
Last week's C-suite roundtable at Travel Technology Europe saw travel leaders from Carlson Wagonlit Travel, Criton, Der Touristic, Nezasa and Flymya discuss how travel firms should approach digital transformation and emerging technology in their businesses
C-suite travel executives agreed that vital digital transformation in firms can only be achieved if it is embraced by staff at all levels in a company.
Speaking at the annual Travel Technology Europe C-suite Question Time, a panel of senior managers said talent was a vital component of embracing emerging technology.
And they urged firms to be flexible in the processes and workplaces they provide to encourage a collaborative and transparent approach to digital transformation.
Dirk Tietz, chief digital and transformation officer at Kuoni's German parent Der Touristik, said the firm celebrated its 100th anniversary two years ago.
But he said even for such a well-established firm digital
transformation was a long-term and ongoing project.
"It covers a lot of different things," he said, "not just the technology part. It covers the organisational part, how to work, HR, how to breed and keep digital talent. It's multi-faceted.
"It's a very holistic transformation approach that we have and it takes a little bit more time. I have to be more patient. But it's key for success and four our future.
"That's why it's really important to keep it going and push forward. That's why I'm working to jeep it high on the agenda."
Asked if transforming the business has been easier or harder than expected, Tietz said: "It's mostly quite easy to write down what you would like to do.
"The difficult part is in the execution. The easy part is to have an idea and conceptualise, but the devil is in the detail."
Rachel O'Brien chief technology transformation officer at corporate travel giant Carlson Wagonlit Travel, agreed saying it is tough to bring strategy to life.
"It has to be a holistic approach. You have to look at your process and the tech to enable your processes," she said.
"CWT has a really innovative approach encouraging not just internal development but we have strong partnerships with emerging and disruptive technologies. We want to cover those gaps.
"It's easy to say 'here's the strategy', it's harder to bring that to life. Where we have been successful, and where anyone looking at this sort of transformation should look at, is with talent.
"Look at the people you are looking to hire and the environment into which you are attracting your talent.
"Have the right talent with the right tools and right strategy and you are going to go on this journey much more easily."
O'Brien said CWT's development encompasses 16,000 people working in 50 different countries and so it operates a really flexible workplace policy with working from home supported.
"It has to come from the bottom up. That's why purpose is very important. Over-communicate and show leadership that you are allowing people to engage in that and bring forth ideas.
"We have a mantra of learn fast, there should be no fear of failure. We award people for failing fast as long as they take lessons from that away with them."
Manuel Hilty, chief executive of Swiss travel technology specialist Nesaza, said: "There is no silver bullet. We are in constant transformation. We have been digital from the start.
"You need a vision, you need to communicate and have a purpose but have your staff be part of shaping it otherwise they will be gone and you have a problem.
"You have to do a lot of things right, but you can do a lot of things wrong, so it's not always that easy."
Although it is important to keep techie staff motivated by allowing them to work on new and innovative projects, Hilty said:
"The most important thing is to make the main job as interesting as possible. We have hack weeks where they can work on their own projects most of which have relevance to what we do.
"But, in general, it's what they do every day which needs to stay interesting. There are area you can synergies between the needs of the business and the interests of the technical people.
"There's a lot of business reasoning and machine learning for recommendations which is also something that developers love to do because it's a way for them to learn something leading edge."
Jeff Pan, founder and chief executive of Myanmar start-up Flyma, said he does a lot of "weird things" inspired in part from his time at booking.com in Amsterdam.
As well as being transparent by making sure everyone in the business can see his emails, he also tries to give everyone the skills to be a data scientist.
"At booking.com you spend your first two months in the classroom just to learn data science. That became the core of the business.
"Open access to everyone's files and emails and you see some surprising things happening."
Dwayne Pascal, chief technology officer at hospitality app provider Criton, said personal skills are more important than technical skills.
"What we look at mostly are skills like curiosity, humility and being able to collaborate in teams.
"Those are the things we look at because you focus on trying to develop people and help them solve the problem; let them be involved in that.
"Looking for a specific skills set from a technology basis is not necessarily the right way to go because it might not be where we are going to be in a year's time."
Pascal said Criton is looking to develop more open API integrations with partners. "It has taken a little bit of time to get there, but we are seeing more of that in the hospitality industry right now.
"That's where the innovation is going to come from, as it has in the finance sector with open banking. We see partnerships as really key for us.
"We want to be technology agnostic so we can bring in different vendors and suppliers to help our clients."
Criton is taking its inspiration from the tech behind Amazon Go stores in the US. "That's a great user experience. That's what we are trying to do.
"What does the guest want in terms of their experience and how do we provide that? It's not necessarily looking it through the dimension of tech but the dimension of what the guest needs."
Tietz said: "There is still so much potential around personalisation, everything around using data, analytics and machine learning.
"It's about how to use data to become better as a business. That is another really important area."
O'Brien said for CWT the question is how it can use artificial intelligence to augment what its agents can do to make them more productive.
"How can we use augmented AI to not only predict disruption but to rebook that trip automatically within company policy and based on traveller preferences.
"How it augments people and interacts with humans is going to be where the real sweet spot is. We are working on that now."
Hilty added: "We also believe machine learning is extremely important when you want to help everyone do their job better.
"We also believe AI won't cover the whole process or solve everything. We believe in value appropriation where humans and AI work together to produce the best possible results."