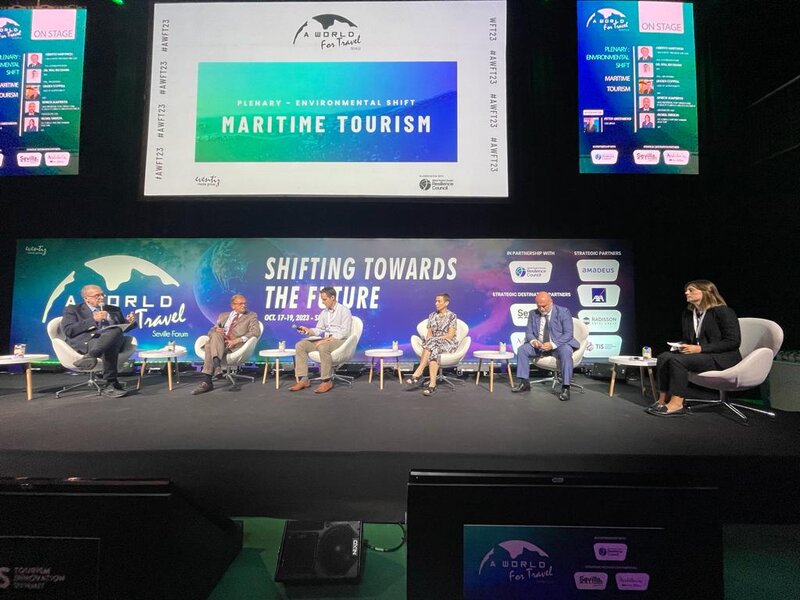 AWFT 2023: Uptake and policy incentives on sustainabilit needed for the cruise industry
Panel discussed a variety of solutions and levels of feasibility
Maritime leaders met at A World for Travel in Seville last month to discuss the cruise industry and its needs to continue driving a more sustainable future.
The panel discussion on maritime tourism saw Roberto Martinoli, senior advisor to president and CEO of Royal Caribbean Group, outline that sustainability is a cruise industry issue and not just a Royal Caribbean issue.
"We're all building the same ships, we're all using the same equipment, we're all using the same suppliers."
He went on to detail how the cruise company is tackling it. He said it was easier for new ships with new technology, but the existing fleet has had its onboard systems upgraded and procedures in place have been adapted to help the decarbonisation of the business.
Royal Caribbean may not have all the answers but it's improved its efficiencies by 20-30%.
"We've all increased our efficiencies by 20-30% without finding a solution.
"Our ships are almost complete independent with the production of water, and I think you'd be incredibly surprised by the way we dispose of waste. We do a lot of recycling.
He added: "I don't think there is any better way to do it than how cruise ships are doing it today."
This is largely due to fact that the infrastructure in place currently supports more traditional methods like diesel fuel for ships.
Martinoli said: "I don't think there is one solution and it's important to remember that ships are going all over the world, and the fuel that is available today is diesel oil.
"The supply chain is organised and set up like that but there are other areas of the world where other fuels are available. This is an issue as ships need to be supplied by 70% of fuel.
"We are all looking into alternative fuels, but the problem is the one solution that would cover the entire world is not available today.
"We all need to do our homework and diligently invest."
Linden Coppell, vice president sustainability and ESG of MSC, said: "One of the differences is with maritime there is arguably more opportunity for diversity, when it comes to fuel."
She said: "Within the maritime industry we can look at different solutions like LNG and it can transition very easily to a non-fossil fuel one."
Coppell revealed that MSC are testing fuel cell technology on one of its ships. It's hoped the ship can use that for a hotel load in case it goes to places that doesn't have shore power.
Coppell explained there are different solutions out there and one size doesn't fit all.
She said: "Let's not assume that every single vessel that goes on the sea, is going to have the same solution.
"A ferry boat that goes between two ports can be electrified much more easily than maybe other types of vessels."
MSC can't electrify its business and Coppell said "we certainly can't look at electrifying the cargo industry" as it goes on very long routes.
She said the green corridors being created for cargo is a "fantastic idea" because there are many "core" containerised shipping routes in the world.
"If you identified 20 of those and made those particular corridors and made sure the infrastructure is available at each end, to get the fuel that you need to be able to do those journeys, you've made a significant difference."
"Even though we have a very similar strategy between the cargo and the cruise businesses, there is still very different solutions out there."
Isobel Gibson, senior consultant, sustainable aviation of ICF, gave wider context to the discussion by providing comparison between the cruise and the aviation industry.
She said: "I think the challenge with aviation, like maritime, we are a hard to abate sector which means that we have limited strategies available to us just because of the nature of operations.
"SAF is undeniably a huge player, but we need to work on uptake."
The panel called for incentivisation at a policy level, from the government to help with this, as penalties are the current driving force.
The onus disparity between the aviation industry and the maritime industry was cited as another reason for incentivisation.