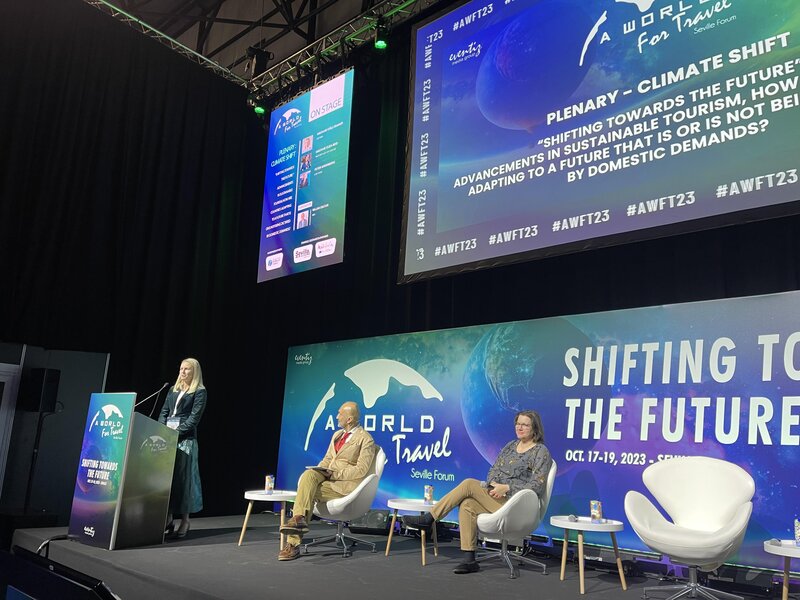 AWFT 2023: Estonia is 'one of the most digitally advanced countries in world'
Some of its initiatives will help fight climate change
Last week, during the A World for Travel 2023 event in Seville, Estonia outlined reasons it is "one of the most digitally advanced countries in the world".
Speaking to the audience, Külli Kraner, the head of tourism at the Ministry for Economic Affairs and Communications for Estonia, announced that the country has the most startups per capita in Europe.
Kraner said the governmental startup programme that was launched a few years ago gives "an opportunity to others, not just Estonians" and is now responsible for more than 100,000 E-Estonians all around the world.
She explained that this allows companies to be "a part" of the country's digital services, of which 99% are online.
Kraner went on to detail how Estonia approaches sustainability as a destination. She said: "Sustainability is not a trend for Estonian's, it is a tradition."
"Nature, food and culture are our pillars to develop tourism in Estonia and there is a horizontal level of sustainability.
The small nation currently ranks fourth on Euromonitor's Sustainable Travel Index for 2023 and has "many businesses" with green labels and certificates or are applying for them.
"To achieve climate change objectives, we see that the only way forward is to do it at every possible level."
"So, at our governmental level, of course we are joined in the National Climate conventions, and we are implementing EU climate law but what we're seeing is that companies are saying that it's not enough anymore to develop sustainability inside your company.
"You need to take further steps and regional collaboration is the next level, where we see some nice examples.
"Also at a governmental level, there are now a new ministry with a minister of climate with the very important task of drafting the climate law.
"When it comes to tourists, we are also seeing that the planning the future for Estonian tourists, we cannot look back, we need to take a huge step out of our comfort zone."
Estonia is now using strategic foresight for its tourism approach which is a "completely different" and plans to involve as many participants as possible in a bid to innovate its actions on sustainability.