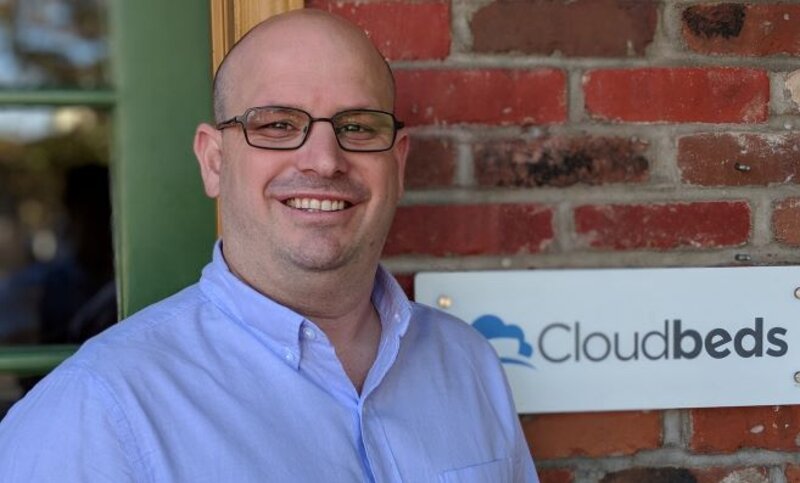 Company Profile: Sunshine is chasing away the pandemic gloom, says Cloudbeds
Cloudbeds' Adam Harris says hotels are investing in tech as the sector faces a talent drain
Adam Harris, founder and chief executive of the San Diego-based hospitality tech specialist Cloudbeds, says hotels are beginning to invest in the vital new technologies needed to cope with a post-pandemic talent drain in the sector 
Global hospitality tech firm Cloudbeds is optimistic of a full return for the travel sector in 2023, a year ahead of previous predictions, although one big issue looms for the sector.
Adam Harris, chief executive and co-founder of the San Diego-based developer, said the sector stands to loose 10% of its talent forever due to the COVID-19 pandemic.
But he says he sees signs that early hesitancy among hoteliers about investing in the tech that will bridge this gap is evaporating as the "sunshine creeps through the dark clouds".
For Harris, the mission for Cloudbeds has always been to automate where required and to help independent hotel operators focus on what he calls the "magic" of hospitality.
As someone who came into the industry from outside, he admits to being in awe of businesses whose customers stay with them physically 24/7, 365 days of the year.
"A third of hotels worldwide still operate by pen and paper. What we are trying to do is democratise the technology the biggest brands in the world use and simplify it down to an incredibly easy-to-use tool.
"We want to get to a place where the system knows the guest wants a hamburger even before they do. That's where hospitality become magical. And that's why we love travel, because of those magical moments that leaving something in the memory," he says.
Harris estimates Cloudbeds' platform saves every staff member working for a client four hours a day by automating manual tasks. Cumulatively that's six years across its network.
But the COVID hit is only going to require operators to operate more efficiently with fewer staff making automation and digital skills among those employees ever more important.
That is why last month it launched Cloudbeds Horizon, a partnership programme with educational establishments that will arm the next generation of with the skills to succeed.
The initiative will offer short, practical "micro-learning" opportunities via live sessions using video bringing together live communities of learners.
Horizon will work alongside the firm's own University that offers self-service on-demand online training to fast-track learning for owners and managers and new staff so they can be hired and put on the front line quickly.
"Our industry is plagued by two things: One, a very fast-changing consumer, and two, high staff turnover in hotels.
"One of the big things that's going to be a challenge for the industry is to retain and hire staff who don't want to come back to hospitality given all the uncertainties.
"Fifty per cent of staff in hotels are going to be working in a different place next year so that constant turnover of people means applications need to be learned in less than an hour.
"We felt if we could take all the best tools that the biggest brands and make them super-easy to use and to train to use we would really have something."
Harris says anyone who can use Google Chrome can use Cloudbeds. "Cloudbeds has a commitment to people in the industry. It's not about professional degrees but crucial courses on standard procedures that are in place in hotels.
"I have thousands of years of hospitality experience in my organisation. We are trying to use the brain power that sits inside Cloudbeds and bring that into tools that can be trained and learned from.
"We are putting millions of dollars into budgets for this and that's something we will never stop doing."
Having been founded in 2012 and launched initially in Brazil, Cloudbeds is now present in 47 countries and has hotel partners in 157 markets.
It employs more than 620 staff in offices globally including Dublin, Kiev, Spain, Brazil and in Asia and has always operated a remote strategy to employment meaning it can access the best talent wherever it is.
Harris admits to having never met in person 85% of his own workforce. "From day one we have always subscribed to remote, we are a remote-first company," he says.
"We will always go out and find the best talent irrespective of geography or address. That's something we pride ourselves on and that has created a competitive edge for us."
On the back of what Harris described as a "monster" growth year in 2021 for Cloudbeds, the firms plans to hire a 2,000 people over the coming two years in areas like technology, customer success, sales and marketing and HR.
"We have supportive investors behind us and we are bullish about where we need to succeed and we are looking for great talent," he says, adding the pandemic has been a wake-up call for many in the sector.
"At first everyone did not know what was going on and then we saw some really positive signs. Vacation rentals went through the roof in the US and the bounceback in the UK was so fast.
"What we were a little surprised by was those who knew they were going to make it through did not make much investment in shifting their tools as we thought. Early on, people were a little hesitant, but now we are starting to see that spend happening.
"We were challenging properties by saying you cannot rely on traditional systems, you are going to have to get cleverer. We are now starting to see some really good trends, up 16% in the UK and ADR and occupancy up on last year.
"I'm glad we're starting to see some sunshine creep out of those dark gloomy clouds around the industry. We now looking at 2023 for things getting back to normal – that's shifted from 2024.
"So, we're not far away from a normal market and hotels can see some light in the long run at the end of the tunnel, but in the short-term they are going to have to get cleverer."
For Harris, cleverer means not offering some services that are not valued by guests and to automate in areas like pricing and revenue strategies, channel management and distribution, payments and invoicing, and laborious manual on-property tasks like check-in and out.
This leaves staff to focus on being the hospitality concierges that adds value to the customer experience in those vital 'micro-moments' that make all the difference.
Harris said: "This year for the first time the largest population of new guests who will stay in hotels were born after 1979. An 18-year-old that graduates from High School today has had an iPhone their entire life.
"The world is not going to be shaped the way it used to. We are going to focus more on what we do, the experience. I think that's the goal. We are going to shift to this whole new world and tech is going to be a driver for that.
"The entire travel journey is not connected yet and there are so many disparate elements of travel that fails us. Those basic moments, I think we can solve and we will solve in a short period of time.
"But its not just Cloudbeds, it's the entire industry saying let's see what we have learned during the pandemic and where can we save time and energy because the guest does not care about that.
"What I love is we get to use our scale to think about all the moments that can go wrong and about how we can make them go right, to free people up with data and workflows and eradicate human error.
"Hotels can be blinded by tech that has existed for 20 years. Often times the reason they use it is because it is comfortable and they are fully aware of its capabilities. But comfort is not innovative, it does not drive industry forward and does not create better processes."