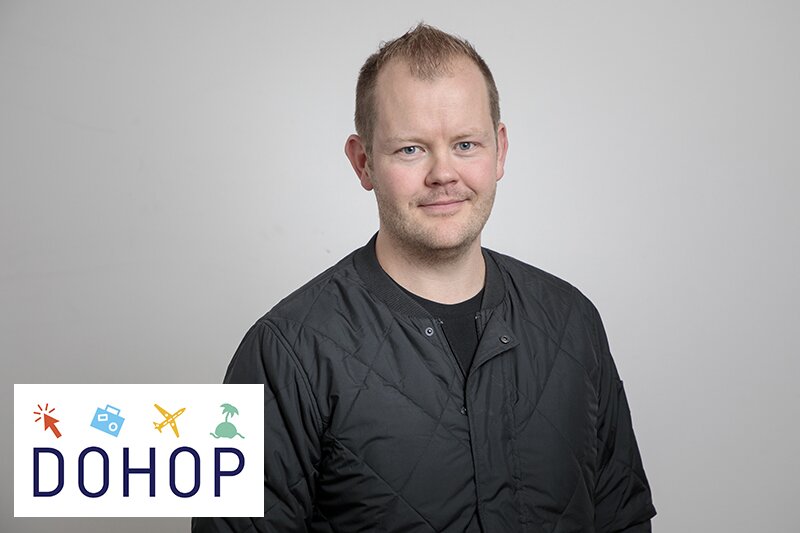 Big Interview: Dohop chief on rebuilding travel's connectivity post pandemic
David Gunnarsson talks about Icelandic tech firm's ambitions having secured funding from former Skyscanner backer
David Gunnarsson spoke to Lee Hayhurst about Icelandic tech firm's ambitions having secured Series A funding from the private equity investor that originally backed metasearch giant Skyscanner 
One of the big challenges for the global travel sector will in rebuilding from the COVID-19 pandemic will be reforming the international connectivity that's been lost during the crisis.
With many airlines not expected to return to 100% capacity for some time and with much long-haul flying still in abeyance, networking travel suppliers will vital.
This is why Icelandic travel technology firm Dohop expects to see its virtual interlining systems to do some of the heavy lifting as post-pandemic demand for travel outstrips supply.
Dohop specialises in creating networks of travel providers from otherwise disparate providers with its lightweight flexible technology.
It was behind the creation of Gatwick Connect in 2014 which the airport used to turn it into a hub of digitally linked airlines, and then its biggest airline partner's own network Worldwide by easyJet.
David Gunnarsson, chief executive of Dohop said the firm is working on opportunities to help airlines rebuild networks post-COVID by integrating rail on new routes or those not yet restored.
A first rail partner is due to go live in months and this sort of regional approach to building back connectivity is expected to be important as intercontinental travel recovers more slowly.
"Airlines are not reinstating their full networks because they are missing a lot of traffic from Asia and the US that was flying internationally into Europe pre-COVID," Gunnarson said.
Data shows that in the US the share of the aviation market for flights connecting domestic destinations is now 45%, up from 35% before COVID, reflecting where the recovery is being felt.
"Because of COVID airlines are open to being more opportunistic, more open to partnerships. We have been accelerating the sign-ups of airlines during the COVID period.
"Our network has grow significantly so that now we serve airlines carrying three to four hundred million passengers, whereas it was a lot smaller pre-COVID."
The stable of carriers that use Dohop for virtual interlining are now based around the world and includes Transavia, Eurowings, Air France, Avianca, Citilink, Jetstar, Jazeera Airways and Vueling.
Gunnarsson said Dohop provides a "lightweight" way to provide the traditional interlining services and ticketing that traditional carrier offer through their alliances and codeshares.
"Traditional interlining is cumbersome and it's expensive to set up and complicated to manager. We are trying to emulate that in a lightweight way for the airlines.
"We can support a more fully integrated experience, but most airline partners like the self-service element of the experience we offer and choose to go for that.
"We enable airlines to create a network and serve passengers they otherwise would not have captured."
Unlike kiwi.com, which has also pioneered a virtual interlining model, Dohop does not operate as a B2C OTA and works to facilitate airline direct bookings.
Airline partners issue the tickets sold via Dohop and all payments are made direct with the carriers.
"We do not compete," said Gunnarsson. "And we support a full range of ancillaries stitching together disparate PSS (Passenger Service System) to enable airlines to do more and better business.
"Airlines do not want to spend time and money on that, and some airlines may not be so open to giving another carrier access to their systems.
"We are that middleware that allows those two things to connect. It's a one to many relationship rather than a one to many."
Gunnarsson said while Dohop listens closely to airlines about what they want from the tech, its development roadmap is also about proactively "pushing boundaries" and being agile.
"There's a balance here," he said. "There are still lots of things we have to build. For example, we have to build a great product for very small airlines with all facilities a full-service carrier requires.
"We have to build a prototype for air to rail, and for ground transport and for ferries. Airlines are generally quite risk-averse because that's the nature of their business.
"That applies across their business from operations to commercial activities, but it varies. Some are well-financed and profitable and take very little risk on the macro side but can take micro risks.
"COVID has definitely changing that. Agile is generally a word used by software people. Airlines tend not to use that word but there's definitely a changing mindset."
There is also a growing number of lean start-up airlines built on an ultra-lowcost model that are effectively Amazon's that fly people from A-B.
Unlike legacy carriers the new entrants taking advantage of low oil price, routes that have been closed and availability of aircraft and crew, are not reliant on traditional channels for their income.
"We have spoken to a number of tart-up airlines recent, two in Norway and one in Iceland that are looking at niche markets," Gunnarsson said.
"It's hard to justify starting a full service airline today with GDS costs etc, but after crises these are usually boom periods for airlines. GDSs will survive, but there is going to be a shift."
With its streamlined self-service tool for smaller airlines, Dohop believes larger carriers will look to supplement their existing networks with parallel virtual interlining agreements.
"Airlines have spent a lot of time setting up interline and codeshare agreements and some of those may not be profitable so some may be switched over to virtual interlining.
"In other places airlines maybe strong in their certain region but there they are not the could build virtual interlining relationships."
In November Dohop secured a multi-million pound Series A private equity investment from Scottish Equity Partners, the original investors in Skyscanner.
This new funding will be used to accelerate its growth plans in a post-COVID era in which it aims to drive a revolution in aviation distribution.
Part of this will be expanding its team of developer in Icelandic capital Reykjavik where Gunnarsson said it has access to a large pool of computer science graduate talent.
"Being based in Iceland has its advantages and challenges. The quality of life is very good and in a country of 350,000 there are 350 graduates in computer science.
"There are 40 airlines that fly to Iceland, so that makes it easier for business development.
"We started talking to Scottish Equity in October 2019 and got pretty close to a deal in March when COVID hit. We got them back in in November and they were keen to invest.
"They like the opportunity. They're an amazing partner and they see the world as we do. That's what you look for in an investment partner like this."