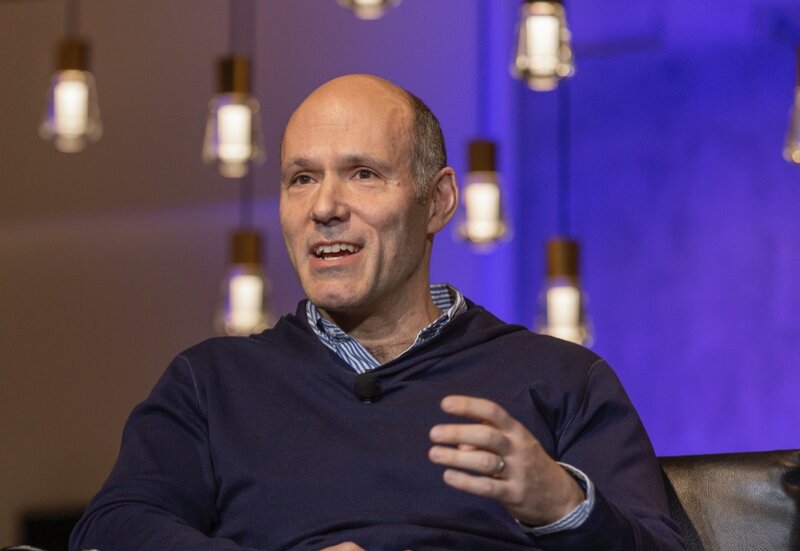 Big Interview: A more ambitious less complex Expedia primed for 'boom times'
Lee Hayhurst caught up with Expedia Group chief executive Peter Kern during a trip to the UK last week
Lee Hayhurst caught up with Expedia Group chief executive Peter Kern during a trip to the UK to talk about how the online travel giant views prospects for the sector as the world learns to live with COVID-19    
Expedia boss Peter Kern was in relaxed and optimistic mood about prospects for the travel sector when we met last week during a visit to the UK.
His transatlantic trip coincided with the UK government's decision to scrap the need for costly PCR tests on the back of cutting the red list from 53 countries to just seven.
Having attended a townhall in Expedia's London HQ attended by hundreds of staff, he likened the current lack of restrictions in the UK to  Texas, one of the US states in which the local authorities have always been opposed to imposing curbs on every day life.
"It was exhilarating to see London back to real openness.  Restaurants and pubs bustling with people, theatres open, traffic – I could barely snag a dinner reservation all week."
For Expedia, the expected US opening up to vaccinated Brits in early November would be an important next step towards what Kern confidently predicts will be a boom for international leisure travel.
Kern, who warned of a "bumpy side" in Expedia's last earnings update, said: "I'm optimistic that we have seen the worst of the delta variant in the US and Europe.
"In terms of what comes next, and how we deal with that, I like to believe in the theory that viruses do not mutate to become more deadly."
Kern accepts there is uncertainty in any predictions as the battle for "Darwinian advantage" over the COVID-19 virus continues, but draws optimism for the emergence of no new variants of concern.
And with booster vaccinations set to become a key feature of the pandemic response along with effective new treatments, he does not see recent progress going into reverse.
Getting back to normal
The re-opening of borders is particularly important for Expedia which, Kern says, is considered to be more of an international OTA in many of its key markets like the US and UK.
While the necessary focus on domestic travel during the pandemic has seen some winners emerge during COVID, the dramatic collapse of sectors like corporate travel reflects what a torrid time the last 18 months has been for many.
In May Expedia agreed to sell its business travel brand Egencia to American Express Business Travel but will retain a strategic interest in corporate travel as part of a long-term commercial partnership.
That relationship now sits under a reorganised Expedia for Business B2B partnerships division headed by London-based president Ariane Gorin.
Kern echoes Gorin's belief in the power of partnerships and says, while Expedia has a presence across the sector, its core strength lies in international leisure travel.
And he sees a travelling public "chomping at the bit" to jump on planes again, pointing to hotel rates in Hawaii going "off the charts" while Americans were confined to travelling within the US.
"People have been more than willing to travel," he said. "That's not true for everyone, some are still far more apprehensive than others.
"But you might have presumed the older population would be more nervous, however, we saw them get vaccinated first and they were back out there."
Kern expects many of the typical pre-COVID travel behaviours to return as the opening of offices and schools sees the usual pattern of seasonality return to the sector.
And he believes even corporate travel will rebound once it becomes clear that executives who opt to travel to win new business in face-to-face meetings are more likely to secure those deals.
"I think next summer will be normal, and boom times. Pretty much everything is going to go back to the way it was. Leisure will be booming, international cities will come back.
"I lived in New York during 9/11. Everyone said it was the end of travel but within two years we had the biggest real estate boom and travel went through the roof."
Kern accepts there is likely to be some recalibrating of travel, but the changes will not be as acute or long-lasting as some of the 'new normal' predictions.
Simplifying the complicated
Where change is happening is within travel companies, the pandemic having forced them to refocus – a process Kern was brought in to oversee before COVID brought the world to a halt.
He says Expedia had become "too complicated". The group recently announced it is unifying its many brands' loyalty programmes.
"I would say we have grown our ambition, but simplified how we are going about it. That's the most important work we have been doing.
"There's a lot we have done that's gone way beyond what we envisioned at the start of 2020. We have gone through several iterations.
"When COVID arrived, it helped to have a running start. We thought it would be a sprint, but it turned into a marathon."
Kern added: "Hotels and some big players have learned they were trying to get into things that were not in their core. They've said let's stop that, its burning money, let's be more profitable.
"The pandemic has given most big travel corporations the chance to re-look at their cost base and re-focus on what they are good at.
"That goes for us too. In times like this we have had that moment to reflect on what we are truly good at, truly special at, and not try to do everything.
"The pandemic gave us a terrific opportunity to really work on ourselves, to become a company with much more ambition for doing a lot more for the customer.
"Most firms will come out of this more profitable, more focussed on what they are good at. It's also created a sense that we are all in this together, let's not fight over the last penny on the table."
Keeping the sharks at bay
While Kern has hopes for a more collegiate culture emerging in travel, he continues to express concerns that this is not the case when it comes to the big tech giants, specifically Google.
With Facebook currently under increasing scrutiny in the US, he believes regulators are catching up with counterparts in Europe in scrutinising the dominance of these global corporate goliaths.
Kern does not believe the likes of Google or Amazon want to become travel companies, but he does not see why they should be allowed to be beneficiaries of marketplaces that operate in their favour.
"From my perspective Google is a shark, and you expect a shark to act like a shark and this is something you would expect regulators to look at.
"If there's a fair marketplace you expect to pay to operate in it, if it's unfair we will spend our time figuring out how to spend our money in other places.
"I don't think Google wants to be in our business, or Amazon. They don't want to incur more regulatory scrutiny. Travel is a unique – it's not an easy sector to walk into.
"Google just wants to suck as much money out of the marketplace as it can and get us to pay for it, which is not a great thing. It does not want to look after consumers, or look after suppliers.
"And I think Amazon has enough to do being Amazon. You can make the case it could eat the entire world, but the question is what are the regulators going to do.
"All the tech giants are coming under more scrutiny and they know it. The EU tended to be more on the front foot than the US, but the US is coming round."
Kern points out despite growing concern about the tech giants all of us are "co-conspirators" in their rise because we all "buy their stuff". He reveals his wife has banned Amazon in their household.
Expedia's strategy to distance itself from what Kern terms the "dark overlords" of the internet, is to invest in tech and talent to get closer to its customers and to support partners doing likewise.
The firm is "going to have more data scientists than the whole industry put together", he said, and Expedia will compete for talent by promoting travel as a more meaningful career choice.
"We are finding people who want to do something that brings them joy rather than hate speak. We have tremendous upside compared to these trillion dollar companies.
"There's so much opportunity for growth. Many great leaders have joined us and we have a diverse group from around the world from all backgrounds which is making us better.
"I want to find people who want to be here and win, people who are committed to the cause and who want to make us great."
A more transparent and sustainable future
One of the increasingly important factors both employees and customer will take into consideration when choosing to work for or buy from a brand is the perceived impact on the environment.
Kern says the travel industry has "woken up" both to its own responsibilities and to the demands of customers to operate more sustainably and to mitigate its role in climate change.
"It's appropriate for customers to make choices that fit their world view. If they want to make choices that are sustainable we will give them the transparency to see this is the sustainable choice.
"They key thing is to help people make informed choices. If you do that as a marketplace, then the consumer will speak and airlines and suppliers will be incentivised to be more sustainable."
Ultimately Kern expects the choices people make to change, but what won't go away is the wanderlust most humans have and the desire for joy and lifechanging experiences.
He says the challenge for the travel industry is there needs to be an agreed set of standards so there can be processes and ratings that are universally accepted.
"If we can offer transparency we can get to a place where incrementally people are making better choices and suppliers are getting better and better.
"That's the power of the marketplace, to drive behaviours. And that can have a massive impact."