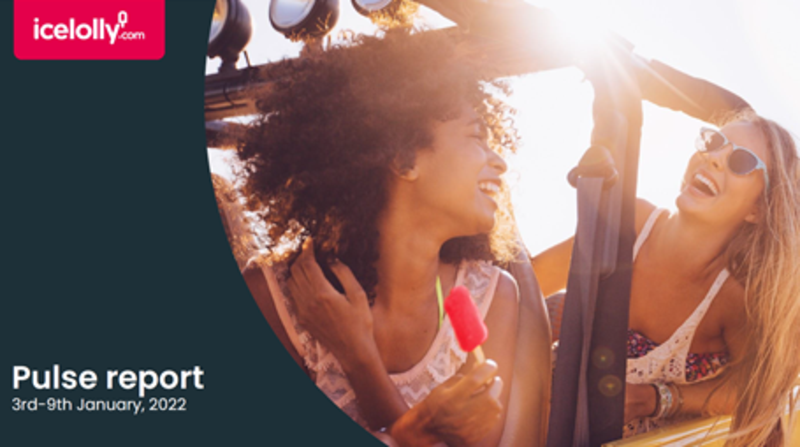 Icelolly.com Pulse: Site reports highest search levels in one day since September
Confidence returns among holidaymakers after positive news about travel restrictions
Icelolly.com saw the largest amount of search activity on one day last Sunday since last September as confidence returned among holidaymakers.
The site's latest weekly Pulse tracker saw big gains in search share for February travel, with last-minute winter sun breaks proving increasingly popular.
All travel months through to July saw share gains, while those in later summer and beyond dropped off, highlighting a shift in search mentality.
For the week to January 9, share by season stood at: winter 2021 28.9%, summer 2022, 63.9%, and winter 2022 4.2%.
In terms of popular destinations, there were share gains for many of the traditionally popular beach break destinations. Antalya, in Turkey saw the largest gain (+22%).
Outside of the top 10, Marrakech saw the most notable share gain, of plus 45% week-on-week.
Tenerife remained the clear favourite followed by Lazarote, Algarve, Costa Blanca and Majorca.
There were search share losses for a number of long haul destinations, including Cancun, Dominican Republic, Jamaica, New York, as closer-to-home last-minute and summer holidays came back on the agenda.
Chris Webber, head of travel deals at icelolly.com, said the site saw an immediate response to more positive news about the COVID travel restrictions being lifted.
"Once again, a positive announcement affecting how easy or otherwise it is for people to get on holiday had an immediate impact on both searches and bookings.
Sunday saw the most searches on icelolly.com since last September and we're seeing a confidence from those searchers converting into bookers that hasn't been there for a while.
"Hopefully that momentum continues to build; comparing search volumes with what we saw in January 2021 is – thankfully – like chalk and cheese.
"What hasn't changed is a love for Tenerife, which dominated searches and bookings especially for winter sun travel."