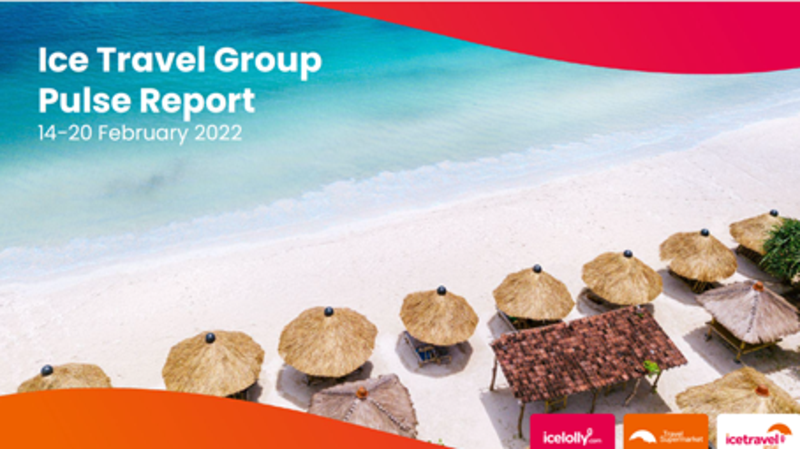 Ice Travel Group Pulse: Spring holiday planning in full swing search data shows
Latest trends from the iceolloy.com and TravelSupermarket parent for the week of February 14-20
by Kaia Hicks
Spring holiday planning is in full swing according to the latest Pulse report from icelolly.com and TravelSupermarket parent Ice Travel Group (ITC).
ITC data for February 14-20 shows March, May and April as the most searched departure months.
Spring bookings are at the top of the search volume charts with Summer booking searches behind them.
March was the most-searched month on TravelSupermarket, with May jumping into second place during the week.
On icelolly.com, April had the largest increase in search share. Outside the top ten, there was a 45% increase in the search for August 2023 travel.
Slightly more last-minute departures have been booked through icelolly.com.
Just under 6% of bookings were for travel after October 2022 on TravelSupermarket, versus around 2.5% on icelolly.com.
For destinations, Fuerteventura was the big share gainer in the top ten. And outside the top ten, Rhodes increased share by 43%.
There was a big increase in searches for Zante. While Mexico, Crete and New York also saw increases.
Tenerife had close to double the bookings of next-best Majorca on TravelSupermarket.
Lanzarote was seen to be the second most-booked destination on icelolly.com. Ibiza entered the top 10 on icelolly.com with strong bookings for this summer.
Chris Webber, head of holidays and deals at ITG, said: "Searches and popular bookings remained strong as people look to get a summer holiday on the calendar.
"Two-thirds of bookings on both TravelSupermarket and icelolly.com are for summer 2022, with the Canary Islands as popular as ever.
"Long Haul destinations like Mexico and New York are still finding favour on TravelSupermarket, while Ibiza has entered the top 10 most-booked on icelolly.com.
"There was a big lift in searches for peak summer 2023 on icelolly.com and we've seen some big bookings for that travel period, too, including a £22k holiday to Tenerife."