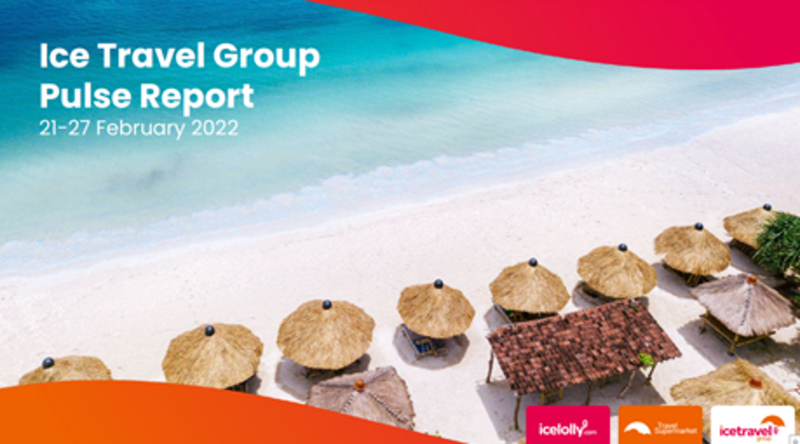 Ice Travel Group Pulse: Spring departure dates continue to dominate search
March, May and April the most searched departure months in week to February 27
by Kaia Hicks
Spring holiday searches continue to dominate with summer following closely behind according to the most recent Pulse report Ice Travel Group.
The Icelolly.com and TravelSupermarket parent's data for February 21-27 shows March, May and April as the most searched departure months.
April recorded the biggest increase in search share for a second consecutive week. Outside the top 10, February and May 2023 both had share increases of around 20%.
On TravelSupermarket, March was the biggest gainer in search share week-on-week since being the most searched last week.
Bookings increased for summer 2022 to two-thirds of all bookings on icelolly.com and gained a few percentage points on TravelSupermarket as well.
TravelSupermarket also saw an increase in a small volume of summer 2023 bookings.
In terms of destination searches, the top seven were in the same order as last week, with some swapping around in places eight through ten.
Paris sits just outside the top 10 (in 11th) after a 20% increase in share, week-on-week. Tenerife remained most-searched, though less dominant than on icelolly.com.
Costa del Sol and Algarve saw the biggest increases in share, as Dubai and Zante fell out of the top ten.
Majorca took the most-booked crown from Tenerife on icelolly.com, while on TravelSupermarket Tenerife increased its dominance.
Dalaman area and Corfu were new entries into the top 10 on icelolly. On TravelSupermarket Algarve show up to number two, having not been in the top 10 last week.
Chris Webber, head of holidays and deals at Ice Travel Group, said: "It's the first time Tenerife has been knocked off top spot since travel to most major destinations has been bookable again.
"On TravelSupermarket there is still a lot of interest in travel this month (March), but bookings are growing for S22 travel on that site, too. Tenerife remains the most-booked on TravelSupermarket."