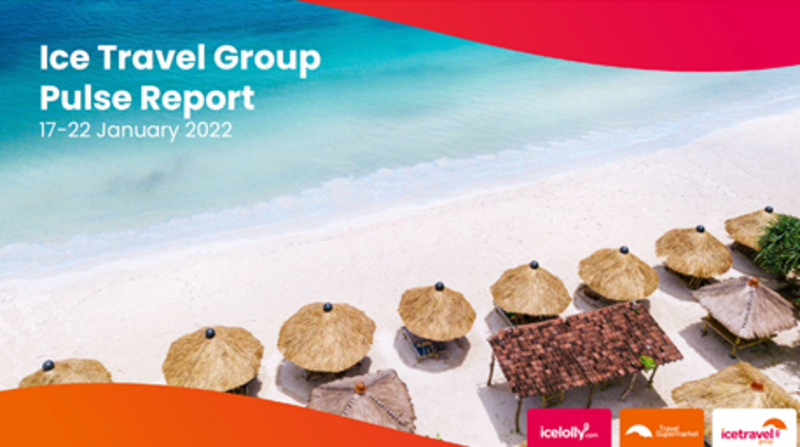 Ice Travel Group Pulse: Rising consumer confidence indicates sustained recovery
Icelolly.com and TravelSupermarket parent issues latest trends for week to January 22
Icelolly.com and TravelSupermarket parent Ice Travel Group has reported further evidence of growing consumer confidence.
It's weekly Pulse tracker report, reporting data from both brands for the first time, revealed 90% of bookings are for departure dates up to October 2022.
The firm saw its biggest booking day to date this year on Sunday after the UK lifts remaining COVID-19 restrictions and scrapped the need for travellers to be tested.
In the week to January 22, icelolly.com saw increases in search share for May, July and August travel, with March travel seeing the biggest uplift.
Search share for May increased on TravelSupermarket, becoming the most-searched departure month.
On icelolly.com summer holiday favourites Costa Blanca, Majorca, Costa del Sol and Fuerteventura saw search share gains this week.
Aside from a big jump for searches to Bodrum in Turkey, there were significant search share gains for Tenerife, Costa del Sol and Algarve on TravelSupermarket.
Summer 2022 departure searches accounted for 65.2% of the total for the week on icelolly.com and 59.9% on TravelSupermarket.
Chris Webber, head of holidays and deals at Ice Travel Group said the group is expecting the latest rise in search and bookings to be sustained.
"Increasing consumer confidence and desire to book travel is being played out on a daily basis across our holiday search and deals websites; Sunday was the strongest day for searches we've seen this year.
"We're definitely seeing a more sustained lift than at any point over the past nearly-two years.
"That's translating to a lot of love for summer beach favourites like Majorca and Costa Blanca, while multi-season destinations like the Canary Islands are mopping up last-minute travellers as well as summer bookers.
"The latest announcements around removal of testing is another positive and should help sustain the pick-up."