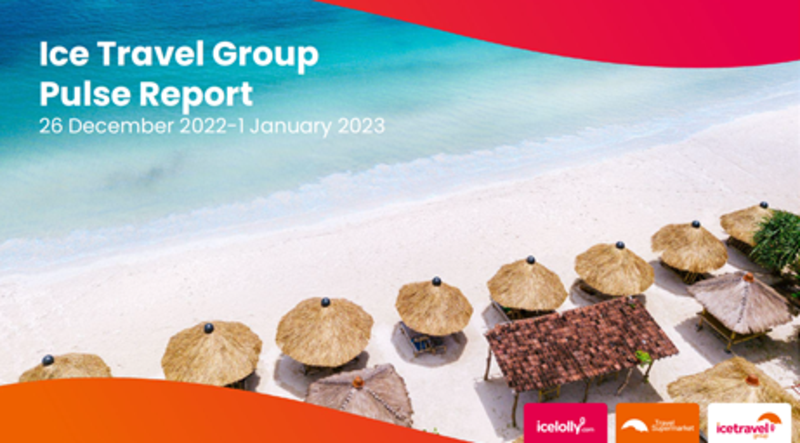 Ice Travel Group Pulse: Positive signs for peaks in latest weekly data
The icelolly.com and TravelSupermarket parent has released its first search and booking trends tracker of 2023
Positive signs for the post Christmas peak holiday booking period have been reported by the parent of comparison sites iceloolly.com and TravelSupermarket.
In the first weekly Pulse report of 2023 covering the seven days to January 1, Ice Travel Group said customers' sights are now firmly set on this summer.
The switch in emphasis has been reflected both in the mix of most popular destinations and in bookings made by holidaymakers using the sister sites.
Chris Webber, head of holidays and deals, said: "There's been a shift in behaviour post-Christmas as summer holidays in 2023 become the dominant focus for holiday lookers and bookers.
"July and August are the months that have seen the biggest search share growth across both icelolly.com and TravelSupermarket as destinations like Majorca and areas of Turkey returned to the top 10 of both most-searched and booked.
"There is still some interest in last-minute getaways; despite the search share increases for summer travel, January is the most-searched month."
Summer 2023 bookings were dominant on icelolly.com reflecting the most-booked destinations, with 55.5% of the total for the peak travel season ahead of winter 2022 (34.8%).
Meanwhile, on TravelSupermarket, winter 2022 and summer 2023 bookings were closer in share, 44% and 47.5% respectively.
Searches data showed activity for summer travel increased share post-Christmas with summer 2023 travel accounting for more than 60% of all searches on icelolly.com.
January remained the most searched-for month but its share dipped week-on-week by around seven percentage points.
The months of May, July and August 2023 pushed April and February down the rankings to form the top four most popular.
Summer destinations like Majorca and Dalaman saw big week-on-week share growth. Rhodes, Corfu and Crete were all just outside the top ten after strong increases in share.
On TravelSupermarket, the big share growth was also for summer months with July and August leading the way. Summer searches accounted for around 48% of the total in the seven-day period.
The trend towards summer months was less marked on TravelSupermarekt, with January, February, March, April and May remaining the top five most-searched-for departure months.
In terms of destinations, Costa Blanca, Majorca and Costa del Sol were the big share gainers on TravelSupermarket.