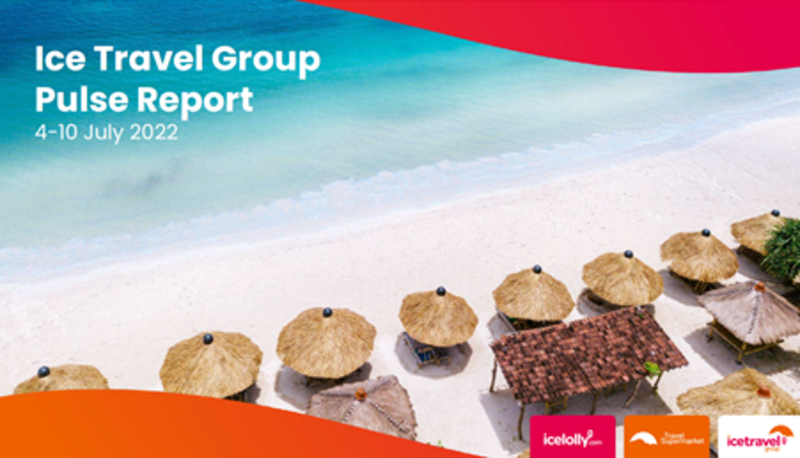 Ice Travel Group Pulse: Demand for summer dominates but 2023 bookings build
The icelolly.com and TravelSupermarket parent reveals the latest weekly search and booking trends on the two holiday comparison sites
Demand for this summer remains high but there are signs that holidaymakers are starting to plan their 2023 getaways, according to the latest weekly tracker from Ice Travel Group.
The icelolly.com and TravelSupermarket parent reported in the week to July 10, August surpassed July as the most-searched departure month on icelolly.com.
However, a further week-on-week increase for June 2023 travel means demand for summer 2023 travel now accounts for more than 12% of searches.
The biggest gain on TravelSupermarket was for September 2022 travel, though July
remained the most-searched. Summer 2023 accounted for around 16% of searches.
On Icelolly.com there were no changes in the order of the top 10 destinations. The Algarve and Crete made marginal gains at the expense of Dalaman and Costa Blanca.
Bodrum saw the biggest gains outside the top 10 (+17% share week-on-week).
TravelSupermarket saw Majorca rebounded from losing share last week to retake third position. Antalya area remained top despite a 17% week-on-week share loss.
Summer 2022 bookings on Icelolly.com crept back over the 80% mark as summer 2023 booking share remained stable.
On TravelSupermarket both winter 2022 and summer 2023 gained share at the expense of summer 2022.
Chris Webber head of holiday deals at Ice Travel Group said interest in travel beyond the looming peak summer period was starting to build.
"Summer 2022 searches continue to dominate and still account for 75-80% of searches on icelolly.com and TravelSupermarket.
"Winter 2022 and, more so, summer 2023 are gaining more traction each week and bookings for these seasons are now around 20% of all bookings on TravelSupermarket.
"Tenerife is the most popular destination for winter 2022 bookers, with Costa Blanca and Majorca leading the way for summer 2023.
"For travel over the next few months, the staples of Tenerife, Majorca, Lanzarote and areas in Turkey are the most-booked."