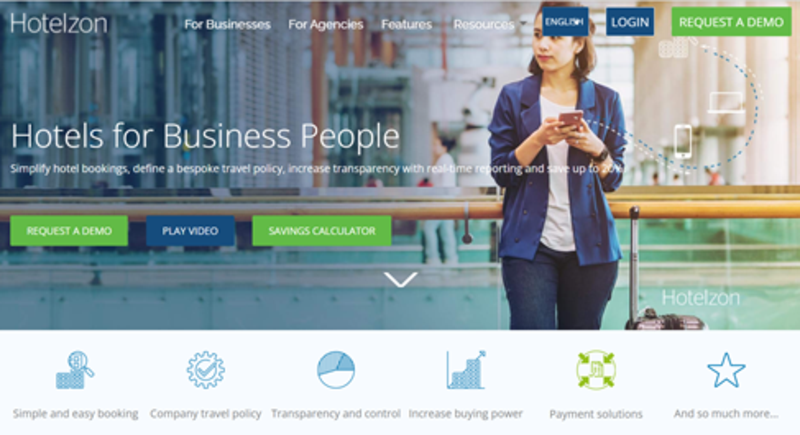 Hotelzon sold by Travelport to corporate travel tech start-up TripStax
The acquisition, announced today for a undisclosed sum, will see an accommodation booking module fully integrated into the TripStax platform
Corporate travel booking site Hotelzon has been sold by Travelport to start-up tech provider to travel management companies TripStax.
The B2B boking platform, that was founded in 1972, has been a wholly-owned subsidiary of the GDS since 2014.
The deal, announced for an undisclosed sum, bring its 370,000 global users including travel agencies, corporations and event management firms into the TripStax portfolio.
Over 1.5 million properties are available on Hotelzon from multiple content sources including Booking.com and Expedia.
The acquisition of Hotelzon will enable TripStax to bolster its tech offering of connected proprietary business travel modules with a fully integrated hotel booking tool for TMCs and corporates direct.
It also means TripStax can integrate hotel booking data from multiple channels within its existing TripStax Content module for the first time. This module already aggregates air content from GDS and non-GDS sources via a single API.
TripStax launched earlier this year to provide a connected modular stack of proprietary travel tech tools for TMCs.
Jack Ramsey, TripStax chief executive, said: "Since its conception, TripStax has been on the look-out for acquisitions which add relevant and complementary tech to its already powerful stack of business travel management modules.
"We are excited about the acquisition of Hotelzon as it gives us a solid opportunity to fully integrate a hotel booking module within the TripStax proposition, as well as add a serious hotel flavour to the TripStax Content module, over and above its existing air content.
"We are also excited to welcome the hugely experienced Hotelzon team to the TripStax business and plan to further invest in the team to strengthen existing customer and supplier relationships and realise the full potential of this joint opportunity.
"Our priority first and foremost though is to ensure continuity for existing customers and suppliers, making sure they have what they need, and so we will be focusing consolidating and integrating Hotelzon as smoothly as possible."
At 'The Core' of TripStax is a central data processing system that enriches profile, booking and finance data across each module.
Hotelzon will be integrated as an additional module complementing existing applications used by TripStax customers.
Hotelzon is the second acquisition made by TripStax, following its purchase of TapTrip earlier in the year. Both deals form part of a strategy to develop the TripStax ecosystem and support growth ambitions.
The agreement also establishes a long-term strategic relationship between TripStax and Travelport whereby Hotelzon will continue to generate hotel bookings on next-gen agency booking platform Travelport+.