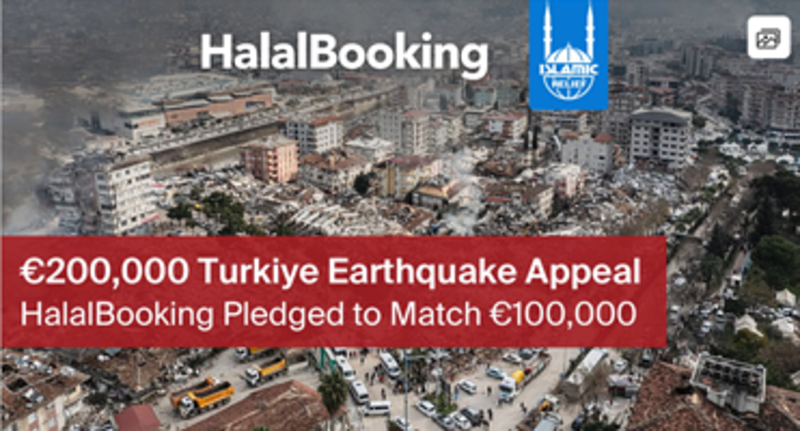 HalalBooking makes €100,000 pledge in Turkey Syria earthquake aid appeal
The specialist UK-based OTA says it has a duty to help after devastating natural disaster left 22,000 dead
UK-based OTA HalalBooking has pledged to match donations for earthquake relief in Turkey and Syria to the value of €100,000.
A region straddling the southerstern border of Turkey and Syria was hit by a huge tremor on Monday which has left 22,000 people dead and 71,000 injured.
It is estimated 13 million people have been affected by the natural disaster and the situation has been described as "catastrophic" as international agencies strive to provide aid.
Halalbooking launched an appeal to its customers, loyalty club members and affiliate partners which saw €30,000 raised in just 24 hours.
The firm is partnering with leading international charity Islamic Relief UK to deliver aid where it is most needed.
Turkey is the most visited destination among the specialist OTA's customers and it decided it wanted to give something back to the country in its hour of need.
Chief executive Elnur Seyidli said: "We see it as a duty and an obligation to repay the hospitality of the Turkish people by helping them in their darkest hour, in this time of great need."

Islamic Relief UK Director Tufail Hussain said: "Hundreds of thousands families are out in the bitter cold, it's a race against time to reach as many as we can, to save lives.
"Islamic Relief is on the ground in both Syria and Türkiye, and has been responding to the crisis. Our brothers and sisters need our support."
HalalBooking is urging people to make donations, large or small, through a dedicated Just Giving page.