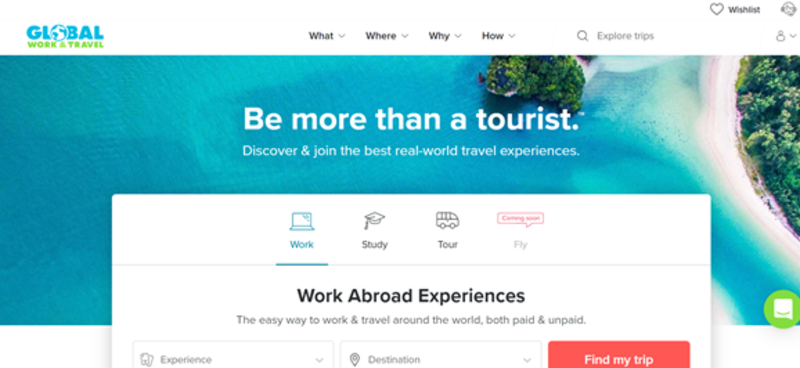 Gap-year specialist Global Work & Travel launches social hub for customers
Australia-based firm aims to help its audience of young adventure seekers get over their fear of travelling solo
Gap-year travel specialist company Global Work & Travel has launched a custom-built social media platform for its customers.
The firms says it designed the social platform to help its clients connect with other solo travellers on their trips abroad.
Australia-based Global Work & Travel operates mainly in six countries including the UK with travellers from around the world.
The social platform is available in the firm's gWorld app and has been in development for the past 18 months during COVID.
A beta version was launched in January in Canada to test and refine the technology and the user experience. It is now available to Global's customers on every continent, except Africa.
The new platform allows users to connect with one another before and after they've landed on their trips and organise social get-togethers, events and parties.
It also provides access to Global Getaways a new feature which allows customers to join unique bucket list side trips with other like-minded travellers organised by the company.
Jürgen Himmelmann, Global Work & Travel chief executive and co-founder, said: "We've been told by our travellers that the biggest barrier to going overseas and doing a working holiday or teaching abroad or any sort of long-term overseas work and travel trip, is that they don't know anyone, and it's scary to go solo and leave your comfort zone back home.
"We're now alleviating that barrier to travel with this gap-year-industry-first technology.
"This is why we decided to develop and launch our own social network that's been custom made and developed in-house by our talented tech team, doesn't use any out-of-the-box software or solution that other brands might, and it now reduces that barrier for young people to travel abroad."
Himmelmann added: "The social platform is already being heavily used by the travellers in our network who are able to make instant friends with similar interests and swap advice and travel tips."
The release of a fifth version of gWorld is due in the coming weeks that will help travellers do much more than just plan and track the progress of their trip.
Himmelmann said he expects the upgraded gWorld app and social feature will help drive additional revenue for the business.
"Global Work & Travel is just as much a tech business these days as it is a travel company and these industry-first innovations are essential to not just stay ahead of the competition, but to provide a seamless and highly effective user experience for our customers.
"We anticipate this will help improve conversion rates and give us the edge over our competitors by making it really easy for our travellers to make friends on the road immediately.
"We've had this idea since we first started and it's finally come to fruition thanks to the slower times of Covid.
"Our aim is to launch a full marketing and awareness campaign through our channels over the next few months and this will also drive customers to our business."
Global Work & Travel is headquartered on the Gold Coast in Australia and has three other offices in Melbourne, London and Vancouver, and 100 staff worldwide.
The company operates primarily in Australia, New Zealand, the United Kingdom, Ireland, Canada and the United States - and it provides Working Holiday packages along with Volunteer, Au Pair, Teaching English, Internship, Tutor, Remote Work and Study trips.