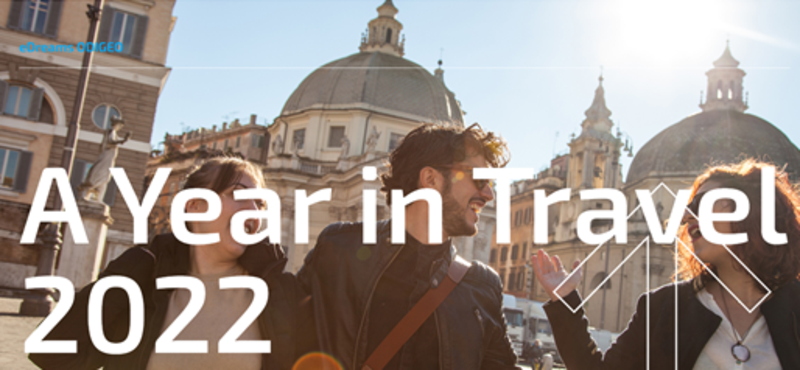 Opodo parent eDreams ODIGEO tracks trends in travel with 2022 report
Year in Travel analyses bookings and search data from customers across Europe and the US
by Aidan Pool
European OTA group eDreams ODIGEO has released a travel report overviewing the past year, emerging trends, and predictions for 2023.
The "Year in Travel" report uses bookings and search data from customers across Europe and the US to analyse popular destinations, booking trends, and the evolution of travel.
Paris, followed by London, were the two top destinations for global travellers over the past year.
The highest percentages of UK visitors came from Spain, Germany, Italy and France, accounting for half of all travel to the UK in 2022.
Dublin was the most popular place for British travellers to visit, followed by other short-haul destinations including Barcelona, Paris, Malaga, and Alicante.
London was the most searched for destination in 2022, with Paris, Istanbul, New York City and Barcelona coming after.
Newcomers on the report's top 50 global destinations include Budapest, Copenhagen, Malta, Stockholm and Geneva, with British travellers showing a growing interest in Berlin, Antalya, Brussels, Stockholm and Pisa.
Opodo data shows that top growth destinations globally were Denpasar, Singapore, Bangkok, Phuket and Jakarta.
The top hotel destination for British travellers last year was London, followed by Istanbul, Dublin, Paris and Barcelona.
Opodo indicates that 41% of all bookings were for trips lasting seven days or more and 45% of all bookings were made less than two weeks before departure, a trend that's on the rise.
eDreams ODIGEO polling reveals that the pandemic has inspired increased numbers of solo travellers, particularly with British and Italians.
Last year also saw an increased blending of work trips with holidays and a growing demand for remote work, according to the report.
Events in 2023 including the UEFA Champions League final in Istanbul and the Roland Garros tennis tournament in Paris are already driving travel interest to these cities.
The Coronation of Charles III in London and the Eurovision Song Contest are also increasing travel demand to the UK for 2023.
The report reveals London as the standout travel destination for 2023.
Dana Dunne, chief executive of eDreams ODIGEO, said: "The data speaks for itself, consumers are embracing the opportunity to travel whenever they can.
"Our bookings data shows short breaks are currently the most prominent, revealing that consumers are looking to squeeze in holidays wherever possible, with almost a third of trips lasting for just three-four days.
"This trend could also be representative of more flexible work patterns, enabling travellers to bring their laptops with them and work abroad whilst enjoying a long weekend in a new, exciting environment.
"This is reflected in the most booked destinations, with a range of European destinations such as Budapest, Copenhagen and Malta pushing some of the more traditional European holiday destinations out of the top ten.
"Our findings also reveal that travellers have been spontaneous with their bookings, with nearly half (45%) taking place just 15 days before departure, or less.
"This underpins consumers' desire to seize the day after being restricted on their travel plans for so long.
"The jam-packed sporting calendar coupled with the coronation next year is the perfect recipe for further growth to key European destinations in 2023, such as London and Paris.
"As people look to put the pandemic in their rear-view mirror, we expect the travel resurgence to continue in 2023."