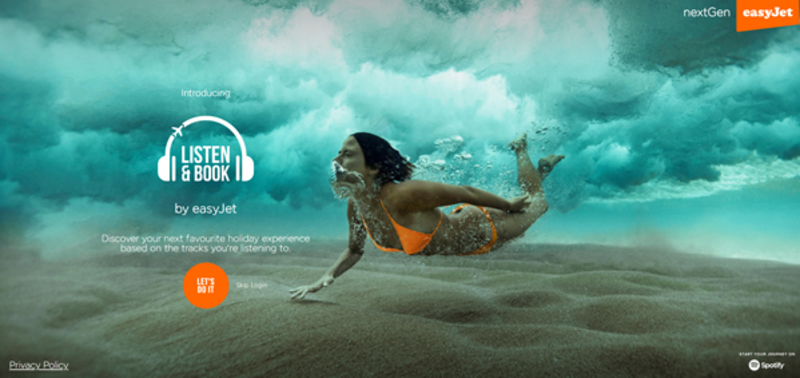 EasyJet integrates with Spotify to inspire holiday destination recommendations
Listen & Book, part of the lowcost carrier's NextGen branding, uses playlists to generate suggestions
Lowcost carrier easyJet has started using customers' musical tastes as inspiration to offer them holiday recommendations.
Listen & Book is a tie-up with music screaming service Spotify that recognises the close connection between users' playlists and their holiday destination preferences.
Users integrate their Spotify account to generate recommendations. The campaign is the latest to launch as part of easyJet's 'NextGen' branding that was unveiled this year.
A dedicated Listen & Book microsite has been lunched which invites users to "Discover your next favourite holiday destination experience based in the tracks you're listening to".
EasyJet and Spotify worked with media agency VCCP London on the Listen & Book campaign which also highlights gigs, venues and shows customers may like to visit.
Richard Sherwood, customer and marketing director at easyJet, said: "Listen & Book will help our customers discover new destinations across our European network, using Spotify's innovative technology to enhance our customer search and booking experience."
Richard Frankel, global creative director at Spotify, said: "This creative collaboration shows what's possible with streaming audio.
"Listeners engage with Spotify to experience inspiration and discovery, and our focus on personalisation enables brands to cultivate meaningful interactive connections with their audiences.
"Listen & Book is a great example of how brands can tap into a consumer's mindset and engage with them in innovative and useful ways that drive real outcomes."
David Masterman, deputy executive creative director at VCCP, added: "The only thing people love as much as travel is music, so we're really pleased that this tech uses one to help the other. Discover the places your Spotify listening history suggests you'd love to visit."
This year Travolution Summit in May hosted a session featuring Global Radio, Travelzoo, Nezasa and Sound Travel, that discussed the opportunities to increase personal engagement with customers through their musical tastes.