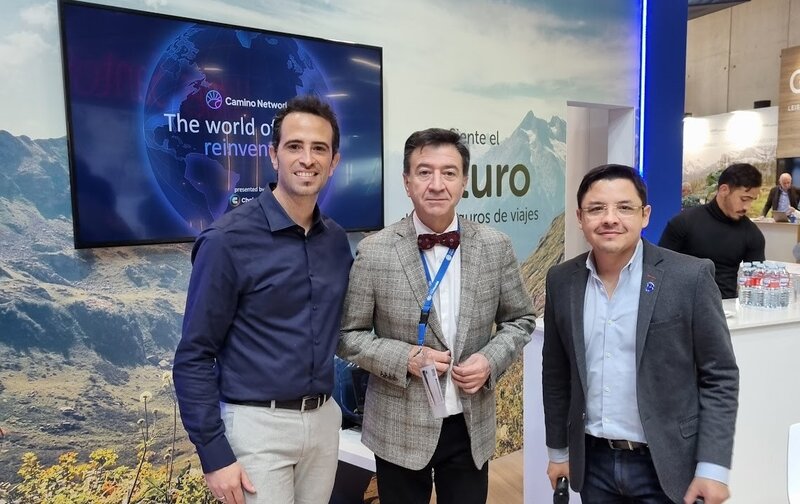 Chain4Travel teams up with Hiberus for blockchain travel insurance project
Specialist policies supplier Intermundial aims to distribute cover through the emerging Camino platform
Emerging travel blockchain platform Chain4Travel is partnering with Swiss technology pioneer Hiberus and specialist travel insurance firm Intermundial to deliver policies.
The tie-up will develop capability for intelligent travel insurance products to be delivered on the Camino blockchain that Chain4Travel is establishing.
The partners say blockchain has significantly changed to way data is used and stored and this is opening up opportunities to develop a wide range of innovative applications and functionalities.
Picture (from left to right): Raúl Gérez, blockchain manager Híberus Tecnología, Manuel López chief executive Intermundial, Jhon Ruiz business development manager Americas, Chain4Travel
The project will aim to increase "the efficiency, security, and confidence of the travel insurance contracting process on some sales interfaces of Intermundial".
Raúl Gérez, blockchain manager at Hiberus, said: "Our team is installing a validator node on the Camino blockchain through which we will have an active role in the new distribution network.
"As soon as intelligent insurance policies through Camino blockchain become available, users will be able to take out travel insurance through the Intermundial website.
"The system will create an NFT of the insurance policy contracted and it will be transferred synchronously to the client's wallet.
"The introduction of NFT policies will be a complementary mechanism to the existing one. It does not replace it, the use of a wallet will always be optional."
Ralf Usbeck, Chain4Travel chief executive, added: "This first use case of Intermundial focussing on the provision of travel insurance is a perfect example of making use of blockchain technology and its benefits.
"The process is based on smart contracts in form of NFTs created by Hiberus and presents an immense gain in efficiency across the insurance landscape."
It is expected that applying blockchain technology to travel insurance will automate the accidental loss and compensation process.
Manuel López, Intermundial chief executive, said: "If a flight is cancelled or delayed, this new smart system will automatically pay the customer the corresponding amount of insurance money according to the insurance policy contracted - without making any kind of process or request form necessary.
"In this way, we can sell our travel insurance policies in a safe and controlled digital environment and, at the same time, we can improve the customer experience by the automation of compensation management," he continued.
Hiberus is also working on incorporating its technology into other applications for travel such as combined travel contracts, payments between intermediaries, and vouchers for a range of services.
"In 2024, we expect to have 40 professionals specialized in blockchain technology to help our customers in this journey", said Gérez.
"Our purpose is to add the Camino blockchain in our platform for tour operators Travel One Inventory."