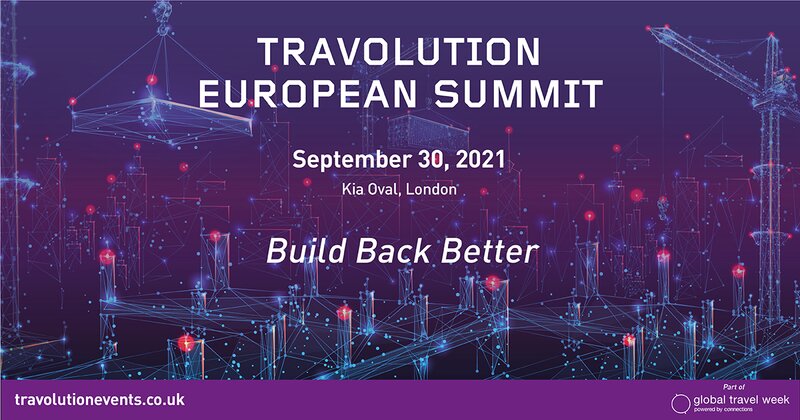 Build Back Better: Register now for the Travolution European Summit
Early bird delegate rate of £209 available until July 2
With the devastation of the COVID-19 pandemic inflicting lasting damage on the travel industry, the sector is looking to accelerate the pace of digital transformation to Build Back Better.
The effective closing down of much international travel has provided an opportunity firms, once they have secured their survival, to go back to the drawing board as they think about the future.
This year's Travolution European Summit will focus on how the reconstruction of the travel industry will embed technology at the heart of the bricks and mortar.
The in-person conference will hear from industry leaders and technology and digital experts about what the blueprint for a truly digital sector looks like as it emerges from the pandemic.
Lee Hayhurst, Travolution executive editor, said: "The pandemic has highlighted the incredible advances in medical and public health technology that are possible when the chips are down.
"No sector has been more impacted by the pandemic than travel which needs the same sort of vision and determination to build back better if it's to emerge from this crisis a better industry.
"Our Summit features speakers who will reflect this mindset that looks to transform the travel experience by making technology a vital building block for a successful and prosperous sector.
"We know the desire to get back to in-person events is every bit as huge as going on holiday is among consumers, so we're looking forward to a very busy 2021 Summit."
Speakers lined up for the Summit are drawn from throughout the travel and hospitality sector as well as technology developer and digital agencies that serve the industry.
Our carefully curated agenda provide information, insight and inspiration in areas like automation, reputation management, the law and regulation, brand building and growth and tech investment.
The day will kick off with the launch of the Travolution Innovation Report 2021 analysis of the key technology spend trends in UK travel over the period of the pandemic.
The Travolution Summit will take place on Thursday September 30, during Global Travel Week, the new business networking confex launched by Travolution parent Jacobs Media Group.
Up to 400 senior industry delegates from the digital travel and technology sectors are expected at the Kia Oval for the conference.
Early bird delegate places are available for one more week to July 2 for £209 plus VAT.